– or –
Let Us Praise Mr. John Impey of the Inner Temple
There's a saying about the past; it's another country and they do things differently there. That means that authors and amateur historians all owe debts of gratitude to those brave souls who penned the travel guides.
This becomes really clear when you're researching the law and policing.
Before 1828, England did not have a professional police force administered by the government. In fact, the ruling elite actively resisted the creation of any such institution. They insisted it would be an infringement on the traditional freedoms of Englishmen. As an example, they pointed to Napoleon and his secret police (who were, to be fair, really bad).
This freewheeling attitude created a lot of headaches back in the day. It created more than a few for me as I was trying to do my research for the Rosalind Thorne mysteries.
In 1817, when my books, A USEFUL WOMAN and A PURELY PRIVATE MATTER take place, London was on its way to becoming the biggest, and wealthiest, city in the Western World. Despite this, crime prevention and investigation was performed by a really loose patchwork of institutions. In fact to call it a patchwork is an insult to patchwork, which is beautiful, artistic, economical and holds together really well.
Under the English non-system, who was responsible for what depended not only on the type of crime, but on where the crime happened. Here's just a few of the possibilities:
Crimes on the roads to and from London, for instance, were handled by the Highway and Horse Patrols (if Parliament felt like funding them in any given year).
Smuggling and theft from ships on the Thames was handled by the River Police.
General security of the streets (such as it was) was the province of the underpaid, understaffed and distinctly amateur City Watch (night and day varieties).
"Constables" were anybody who could be hired by private individuals or the magistrates courts and had duties closer to a body guard's than a policeman's.
How about theft? Well. Unless it was on the King's Highway, or the Thames, the individual citizen was kind of on his own. If, for example, your shop got robbed, you had to advertise for the return of the property (and people did, usually offering a reward, or stating "no questions asked"). You could hire someone to try to track it, and the criminal down. This gave rise to the profession of the "thief-taker" and all its notorious corruption. Which included thief-takers doing things like robbing places themselves and then turning the goods back in for the reward.
Debt was a huge issue, and forgery was a hanging offense, but prosecution for either had to arise from private complaints to the magistrates and it had an entire separate court and jail system (and don't get me started on the concept of the "spongeing house," which is a whole 'nother post).
Things were different in Scotland.
Things were really different in Ireland.
This tangle left me feeling like I was going to have to recourse to my fainting couch and smelling salts. I was saved by a most unlikely hero, one Mr. John Impey of the Inner Temple.
Mr. Impey's Wikipedia page (of course he has one) is short. This is kind of ironic, because although little was written about him, Impey himself wrote a lot — opinions, histories, and articles. In addition, Impey is the guy who literally wrote the book on the Georgian legal system. Actually, he wrote several books. One of them was The Practice of the Office of the Coroner (not it's full title, which takes up pretty much a whole page, and would be a blog post in and of itself). I found my copy on Google Play Books.
Office of the Coroner is not a light read. But for the history geek, or a historical writer, it's not just a roadmap, it's an atlas. The very through and dedicated Mr. Impey covers the history of the office and the types of coroner, who can be a coroner, and how they are selected, and paid. There's stuff on how a jury is selected, sworn in and how they should discharge their duties. There're also sections on what constitutes corruption in a coroner (!), and what kinds of deaths they should investigate, and (oh, bless your pedantic quill, Mr. Impey!) how the investigations should be carried out.
Impey also explains why the office of the Coroner exists at all, and why murder is treated differently from…pretty much every other crime.
In the early part of the nineteenth century, most criminal activity was considered as some sort of threat to private property. That meant, according to the thinking of the time, the private individual affected should decide what to do about it. Violence toward another person, though, was a breach of the King's Peace. This made it an offense against the Crown, and so it was the legitimate business of the King's government to find and punish the malefactor.
So, it's in the Coroner's office we find the roots of what we'd recognize as the modern criminal justice system, pretty much from soup to nuts. The Coroner was supposed to visit the scene of the crime, find and interview witnesses to the crime, inspect the corpse, swear in a jury, hear and record all the evidence, and get an official verdict. He could hire all the help he needed for this, including officers from Bow Street or another police office. He was, in short, a one-man homicide squad.
The system also provided a lovely, and rare high road through the dark woods of Regency-era criminal law.
So, my thanks, Mr. Impey, wherever you are, for clearing the way and leaving the lantern burning. A glass of wine with you, Sir.
The Rosalind Thorne Mysteries—inspired by the novels of Jane Austen—continue as the audacious Rosalind strives to aid those in need while navigating the halls of high society…
Rosalind Thorne has slowly but assuredly gained a reputation as "a useful woman"—by helping respectable women out of some less-than-respectable predicaments.
Her latest endeavor is a tragedy waiting to happen. Desperate Margaretta Seymore is with child—and her husband is receiving poisoned pen letters that imply that her condition is the result of an affair with the notorious actor Fletcher Cavendish. Margaretta asks Rosalind to find out who is behind the scurrilous letters. But before she can make any progress, Cavendish is found dead, stabbed through the heart.
Suddenly, Rosalind is plunged into the middle of one of the most sensational murder trials London has ever seen, and her client's husband is the prime suspect. With the help of the charming Bow Street runner Adam Harkness, she must drop the curtain on this fatal drama before any more lives are ruined.
Mystery Historical [Berkley Prime Crime, On Sale: May 2, 2017, Trade Paperback / e-Book, ISBN: 9780425282380 / eISBN: 9780698404298]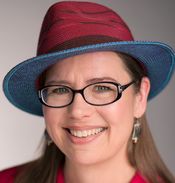 A longtime resident of the Great Lakes State, Darcie Wilde writes her sizzling-hot romances in Ann Arbor, Michigan. When not actually writing, she lives out her own happily-ever-afters with her husband of fifteen years, one rapidly growing son, one cat, and one writer's group of infinite patience.