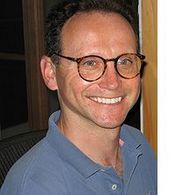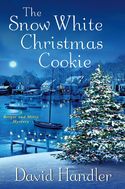 Killing people on paper is terrific therapy.  We mystery writers are very, very lucky that way.  If anyone dumps us, hoses us, lies to us, annoys us or is rude, hostile or so much as gives us a dirty look in line at the supermarket we have a coping mechanism that most people who live outside of the federal penal system don't have.  We can bump them off.   My newest Berger-Mitry mystery, THE SNOW WHITE CHRISTMAS COOKIE, is my ninth novel to feature the mismatched romantic duo of pudgy Jewish film critic Mitch Berger and beautiful black Connecticut State Trooper Des Mitry.  All of the books in the series take place in a picture postcard historic village on the Connecticut coastline that I call Dorset.  I've also written eight mysteries about the dapper celebrity ghostwriter Stewart Hoag and his faithful, neurotic basset hound, Lulu, including my Edgar Award-winner, THE MAN WHO WOULD BE F. SCOTT FITZGERALD, as well as a pair of thrillers.
You know what? I just did the math and I must have bumped off at least forty people by now.  Pretty amazing, isn't it?  I've shot them, stabbed them, bludgeoned them, nail-gunned them, poisoned them, drugged them, run them over, blown them up, drowned them, shoved them off of balconies, cliffs.  My all-time favorite murder was in one of my Hoagy mysteries, THE MAN WHO CANCELLED HIMSELF, when I electrocuted a TV star by hot-wiring his urinal.  In real life an actor on a sitcom I was writing for had really, really been getting on my nerves.
We mystery writers know how to deal with such petty annoyances.
Considering how many people I've murdered over the years you'd think that the No. 1 question I'd get asked by readers is, "Just exactly how did you turn out to be such a twisted puppy?"  And yet it's not.  The question that I get asked most often is, "Just exactly how do you come up with those ideas for your plots?"
Interesting you should ask, because the plot for THE SNOW WHITE CHRISTMAS COOKIE literally showed up on my doorstep one morning.  Okay, I lied.  It showed up at my mailbox.   I've based Dorset on the charming little Connecticut village of Old Lyme where I live.  Like my hero, Mitch, my home is a 200-year-old post-and-beam carriage house.  Unlike Mitch, I don't live on a private island with a lighthouse.  Just a bucolic little lane that's peopled by no shortage of eccentric, hilarious neighbors who live in eccentric, hilarious old houses that have closets chock full of skeletons.  One snowy day last December I looked out the window and discovered a local TV news crew standing at my mailbox interviewing my next-door neighbor.  Naturally, I immediately went outside to find out why.  It turned out that, get this, somebody in town had taken to stealing the mail out of peoples' mailboxes in the weeks leading up to Christmas.  My own mail hadn't been touched.  Or as far as I knew it hadn't.  But several of my neighbors confirmed that in recent days they'd received no mail whatsoever even though our trusted carrier, Frank, swore he'd delivered it to them.
This, my friends, is what's known as a mystery.
When I eagerly tuned in to the reporter's story on that evening's news she offered no specifics as to precisely what might have been taken or who might be responsible, other than to quip that perhaps it was the Grinch.
I didn't want snarky Yuletide quips.  I wanted to know what was really going on in.  Who was stealing the village's mail?  More importantly, why were they stealing it?  I became intensely curious.  In addition to being twisted puppies we mystery writers are also intensely curious ones.  So I decided to seek out the clued-in housewives, cleaning ladies and village tradesmen who I've cultivated as sources of gossip since I began the Berger-Mitry series ten years ago.  And then, armed with the 411, I decided to get myself a haircut.  In Old Lyme the ultimate source for village gossip is John the barber.  If it's happening, John knows about it.  John confirmed the veracity of what I'd heard so far.  He also added a few very choice morsels that I hadn't heard.  And that ended up leading me straight to the plot for THE SNOW WHITE CHRISTMAS COOKIE.
Which just proves something that I'm always saying: Real life is much, much crazier than anything a writer of crime fiction can dream up.  Or it is if you live in a small New England village like I do.  Which brings me to another question that I'm often asked:  Is there any difference between the real village of Old Lyme and the fictional one of Dorset? My answer: There is none — except for the body count.  In THE SNOW WHITE CHRISTMAS COOKIE several people are going to lose their lives before crime-fighting odd couple, Mitch and Des, can figure out just exactly what in the heck is going on.
You know what? I think I may have given you some erroneous information before.  I do believe I've bumped off at least fifty people by now.
God, my mother would be so proud.
David Handler is the Edgar Award-winning master of the witty whodunit. THE SNOW WHITE CHRISTMAS COOKIE is the ninth book in his bestselling series featuring the mismatched crime-fighting duo of pudgy Jewish film critic Mitch Berger and beautiful black Connecticut State Trooper Desiree Mitry. He has also written eight novels about the dapper celebrity ghostwriter Stewart Hoag and his faithful, neurotic basset hand, Lulu.  His newest hero, Benji Golden, a feisty and streetwise 137-pound New York private eye, will make his debut next summer in RUNAWAY MAN.  David began his career as a journalist and has also written extensively for television and films on both coasts.  He presently lives in a 200-year-old carriage house in Old Lyme, Connecticut.  If you'd like to read more about Mitch and Des, or catch David in one of his videos, please visit him on his website: www.davidhandlerbooks.com
To comment on David Handler's blog please click here.