Now through the end of the year, some of our reviewers will be sharing their top reads of 2019! First up, Debbie Wiley… 
2019 is winding down and it's time to reflect back on the year's reading. I read a wide range of genres, to include a mixture of cozy mysteries, urban fantasies, children's books, nonfiction, historical fiction, comics/humor, and graphic novels. 2019 included releases from a lot of my favorite authors, like J.D. Robb, Nalini Singh, Jennifer Estep, Rachel Caine, Anne Bishop, Laura Griffin, Ilona Andrews, and Seanan McGuire, all of whom made my "Best of 2019" list. However, most of my favorite books fall into only a couple categories so I've decided to make up my own "Best Of" categories to highlight a few different reads than just my usual favorite authors.
Best Historical Fiction that also Taught Me a Piece of History I Didn't Know: THE BOOK WOMAN OF TROUBLESOME CREEK by Kim Michele Richardson is hands down the winner in this category. Not only was I unfamiliar with the Blue People of Kentucky, I was also unaware of the Pack Horse Library Project. Kim Michele Richardson delves deep into both issues, as we follow Cussy "Bluet" Carter's struggles with poverty, discrimination, and an abusive marriage. THE BOOK WOMAN OF TROUBLESOME CREEK takes a relatively unknown piece of history and brings it to vivid life!
Best Use of Epistolary and Multiple Narrators: BEFORE SHE WAS FOUND by Heather Gudenkauf blew me away! I've enjoyed other books by Heather Gudenkauf as her thrillers always take a different twist than what you'd expect and BEFORE SHE WAS FOUND is no exception. The news story (and subsequent HBO documentary) on the Slender Man-inspired BEFORE SHE WAS FOUND, but Heather Gudenkauf puts her own diabolically clever twist on the story and produces one heck of a thriller. Who is the victim and who is the guilty party when three girls tell conflicting stories? And is an urban legend the real culprit?
Best Fantasy Novel: Okay, I admit this category is fairly standard but Marshall Ryan Maresca earns special kudos for creating four very distinct series all set in the same fictional world of Maradaine. A PARLIAMENT OF BODIES features a diabolical killer called the Gearbox Killer and it's up to Inspectors Satrine Rainey and Minox Welling to outsmart him. Meanwhile glimpses of a darker conspiracy underlying everything in Maradaine are emerging as Marshall Ryan Maresca expertly weaves together four different series while still maintaining the integrity of each series.
Best Nonfiction Book of the Year (as well as Best Autobiography): Again, a fairly typical category but J. Michael Straczynski's BECOMING SUPERMAN flies far above all over books in this category. J. Michael Straczynski's childhood is sobering at best, horrifying at other times. The poverty, neglect, and abuse are almost beyond my comprehension despite the fact I've worked with this population for over 20 years. However, what sets BECOMING SUPERMAN above the rest is the inspirational and empowering message underlying each and every adversity he faces as Straczynski uses his beloved comics to help him cope. I love the tv show Babylon 5 even more so after reading BECOMING SUPERMAN!
Best Futuristic Thriller and Cautionary Tale about Technology: THE PASSENGERS by John Marrs still haunts me. Driverless cars are coming, in fact there already have been some tests done on their effectiveness. But what if someone hacked the driverless cars and then utilized the power of social media in a Survivor style showdown where each "loser" is killed? That's exactly what John Marrs has created in THE PASSENGERS and the very concept gives me chills even now. More importantly and why it is one of my best books of the year, though, is the brilliant execution of this high adrenaline thriller.
Best Book Featuring a Therapist as the Heroine: As a social worker, I'm often horrified by how anyone in the social services/counseling is portrayed. Lindsey Harrel takes a refreshing approach in THE SECRETS OF PAPER AND INK as she features women's therapist, Sophie Barrett, recovering from her own trauma and taking some time off to heal emotionally. Even more intriguing, the story line is centered around a bookstore. I couldn't help but love this inspiring and beautifully written story of healing and redemption!
Book Featuring a Character I'd Like to Meet: Andy Carpenter is a lawyer and not the kind of character I'd expected to enjoy. However, DACHSHUND THROUGH THE SNOW by David Rosenfelt made me laugh out loud numerous times. I love Andy's witty repartee as well as his awareness of his own weaknesses (ie, he needs back up muscle to deal with some of the unsavory characters he meets). I didn't expect to enjoy DACHSHUND THROUGH THE SNOW nearly as much as I did and truly only picked it up to read as it featured a dachshund, but I have found a new favorite character in Andy Carpenter.
2019 has had many great reads for me, and I could keep going as Amanda Flower's TOXIC TOFFEE deserves special recognition for the rabbit shenanigans and Chris Jameson's SHARK BEACH makes me want to stay out of the Florida waters.
What are some of your favorite reads for the year?
BOOKS MENTIONED IN THIS ARTICLE: 
In 1936, tucked deep into the woods of Troublesome Creek, KY, lives blue-skinned 19-year-old Cussy Carter, the last living female of the rare Blue People ancestry. The lonely young Appalachian woman joins the historical Pack Horse Library Project of Kentucky and becomes a librarian, riding across slippery creek beds and up treacherous mountains on her faithful mule to deliver books and other reading material to the impoverished hill people of Eastern Kentucky.
Along her dangerous route, Cussy, known to the mountain folk as Bluet, confronts those suspicious of her damselfly-blue skin and the government's new book program. She befriends hardscrabble and complex fellow Kentuckians, and is fiercely determined to bring comfort and joy, instill literacy, and give to those who have nothing, a bookly respite, a fleeting retreat to faraway lands.
The Book Woman of Troublesome Creek is a powerful message about how the written word affects people–a story of hope and heartbreak, raw courage and strength splintered with poverty and oppression, and one woman's chances beyond the darkly hollows. Inspired by the true and historical blue-skinned people of Kentucky and the brave and dedicated Kentucky Pack Horse library service, The Book Woman of Troublesome Creek showcases a bold and unique tale of the Pack horse Librarians in literary novels — a story of fierce strength and one woman's belief that books can carry us anywhere — even back home.
Women's Fiction Historical | Romance Historical | Multicultural Historical [Sourcebooks Landmark, On Sale: May 7, 2019, Paperback / e-Book, ISBN: 9781492671527 / eISBN: 9781492671527]

My pick for novel of the year

Historical fiction that teaches even as it touches the reader

Historical fiction at its best.
***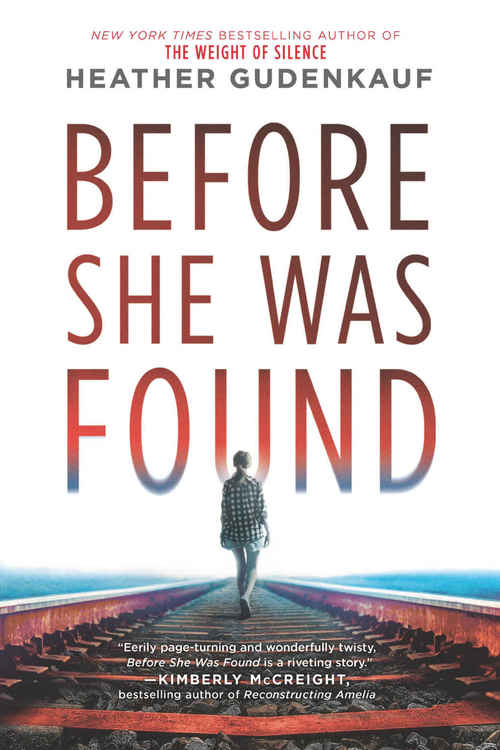 A gripping thriller about three young girlfriends, a dark obsession and a chilling crime that shakes up a quiet Iowa town, from the New York Times bestselling author of The Weight of Silence.
For twelve-year-old Cora Landry and her friends Violet and Jordyn, it was supposed to be an ordinary sleepover—movies and Ouija and talking about boys. But when they decide to sneak out to go to the abandoned rail yard on the outskirts of town, little do they know that their innocent games will have dangerous consequences.
Later that night, Cora Landry is discovered on the tracks, bloody and clinging to life, her friends nowhere to be found. Soon their small rural town is thrust into a maelstrom. Who would want to hurt a young girl like Cora—and why? In an investigation that leaves no stone unturned, everyone is a suspect and no one can be trusted—not even those closest to Cora.
Before She Was Found is a timely and gripping thriller about friendship and betrayal, about the power of social pressure and the price of needing to fit in. It is about the great lengths a parent will go to protect their child and keep them safe—even if that means burying the truth, no matter the cost.
Thriller Domestic | Thriller Psychological [Park Row, On Sale: April 16, 2019, Trade Size / e-Book, ISBN: 9780778307730 / eISBN: 9781488095429]

What happened to Cora in the train yard?