by Debbie Wiley
I miss attending book conventions. I've been lucky enough to attend quite a few in Orlando, Florida over the years, including Romantic Times (now known as the Booklovers Convention), RWA, and the Shameless Book Con. Memories of attending RT and RWA with my mom often pop in my head when reading certain authors because some of those authors are ones my mom introduced me to  their books when I was a teenager. Nora Roberts and Jayne Ann Krentz will always be loved by me not only for their books, but for the memories Mom and I are even now still making as we share a love for their writing.  Just this morning, Mom and I were chatting about the time she met Nora Roberts at RT. Her hands were shaking as she clenched a book in her hands hoping to meet Nora Roberts and get a signature- and she did, making a memory that lasts even now when she's not as mobile and Covid has her stuck in her home most of the time. Books can tie us together in more ways than stories, but here are a few recent books from authors Mom and I have enjoyed meeting over the years.
Nora Roberts, writing as JD Robb, writes one of my all-time favorite series (and one of my mom's favorites as well), the In Death series. Her newest installment, FAITHLESS IN DEATH, digs deep into the darker side of bigotry as Eve and Roarke uncover a nasty trail of murder, human trafficking, and slavery that starts with the death of a young female sculptor. The tale is terrifying for its realism, but also uplifting as we see more of the lives behind the badges for Eve, Peabody, and McNab. No spoilers but I'm excited about the direction their lives are taking and can't wait to see what happens.
Jayne Ann Krentz was the guest speaker at one of the conventions, but Mom was too tired after a full day to see her- something she and I regret to this day. However, we both can enjoy her new book, ALL THE COLORS OF NIGHT, which is the second book in the Fogg Lake series. Sierra Raines is an acquisition specialist of unusual and paranormal items, but she's still seeking an occupation that will fulfill her calling. Meanwhile, North Chastain, needs help for his father who has fallen into a coma after a paranormal attack. North and Sierra will have to work together if they hope to save North's father and uncover more information about the disastrous Bluestone Project Labs. I love how we learn more about the mysterious Foundation and all the various psychic entities in Jayne Ann Krentz's world. I have to admit I thought nothing would ever top her books with the dust bunnies, but I'm loving the Fogg Lake series with its dark and dangerous paranormal secrets!
Another author I want to shout out that Mom and I met at a convention (and I have to admit I fangirled quite a bit over meeting her) is Nalini Singh. Both Mom and I love her PsyChangeling books (although I'm woefully behind on the series now; Mom is up to date). QUIET IN HER BONES is a departure from the paranormal series Nalini Singh normally writes, as it's a twisted thriller where everyone is a suspect, even the narrator. I love books with unreliable narrators and, even better, QUIET IN HER BONES includes brief therapy transcripts for the narrator. QUIET IN HER BONES is a fascinating exploration of memory and murder, as the narrator's own memory causes him to doubt everyone, including himself.
And speaking of memories, I could go on and on about so many other precious memories Mom and I still savor from our book convention trips. Even the ones I went to without her, she loved hearing the stories as I met authors like  Sarah Morgan (another huge fangirl moment for me!), Christopher Rice, and Julie Morgan. However, I do want to mention two other authors whose kindness to my mom at the conventions has left her a fan to this day. Cynthia Eden and Jade Lee both went out of the way to make my mom feel special at the conventions. I treasure each and every one of these moments and hope I'll get to go to some book conventions again soon (safely, of course!) as I can't wait to share more book memories with my mom.
What are some of your treasured memories about book conventions or books in general?
BOOKS MENTIONED IN THIS ARTICLE: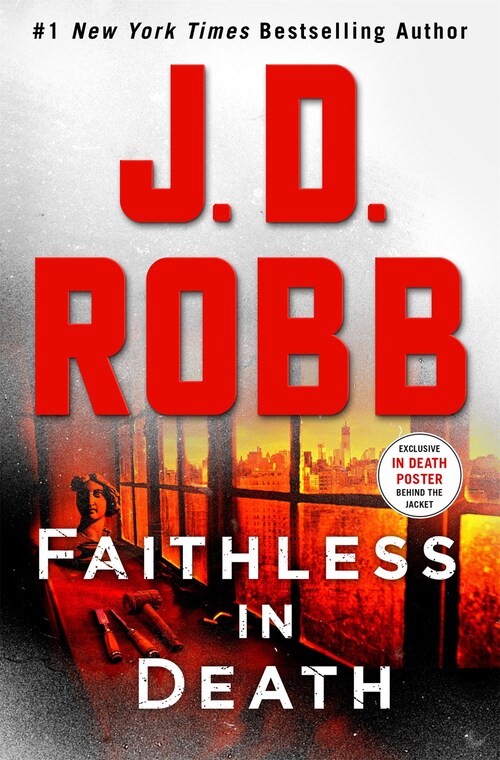 In the new Eve Dallas police thriller from the #1 New York Times-bestselling author, what looked like a lover's quarrel turned fatal has larger–and more terrifying–motives behind it…
The scene in the West Village studio appears to be classic crime-of-passion: two wineglasses by the bed, music playing, and a young sculptor named Ariel Byrd with the back of her head bashed in. But when Dallas tracks down the wealthy Upper East Side woman who called 911, the details don't add up. Gwen Huffman is wealthy, elegant, comforted by her handsome fiancé as she sheds tears over the trauma of finding the body–but why did it take an hour to report it? And why is she lying about little things?
As Eve and her team look into Gwen, her past, and the people around her, they find that the lies are about more than murder. As with sculpture, they need to chip away at the layers of deception to find the shape within–and soon they're getting the FBI involved in a case that involves a sinister, fanatical group and a stunning criminal conspiracy.
Romance Suspense | Thriller Police Procedural [St. Martin's Press, On Sale: February 2, 2021, Paperback / e-Book, ISBN: 9781250272744 / eISBN: 9781250272751]
Only J.D. Robb can write a story that's as detailed and thrilling as this book is.
A simple homicide leads to an international strike force!
***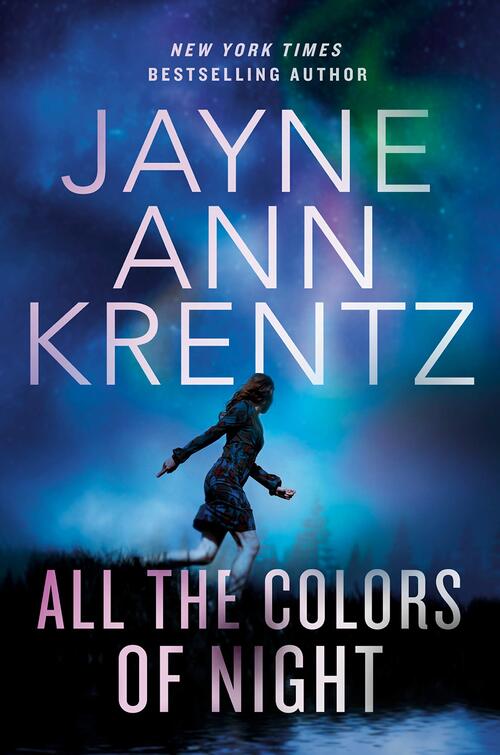 Two psychics plunge into a dark world of deadly secrets in this second installment of the Fogg Lake trilogy by New York Times bestselling author Jayne Ann Krentz.
North Chastain possesses a paranormal talent that gives him the ability to track down the most dangerous psychic criminals. When his father suddenly falls into a coma-like state, North is convinced it was caused by a deadly artifact that traces back to the days of a secret government program known only as the Bluestone Project. North knows his only hope of saving his father is to find the artifact. He is good when it comes to tracking down killers, but to locate the relic he's going to need help from a psychic who knows the shadowy world of obsessive collectors, deceptive dealers and ruthless raiders.…
With her reputation in ruins after a false accusation, antiques expert Sierra Raines is looking for a fresh start. She turns to the murky backwaters of the paranormal artifacts trade, finding and transporting valuable objects with a psychic provenance. When North Chastain approaches her for help, Sierra takes him on as a client, though not without reservations. North represents the mysterious Foundation, the secretive organization established to police the underworld populated by psychic criminals and those, like Sierra, who make a living in the shadows of that world.
North and Sierra soon find themselves at the scene of the Incident, which occurred decades ago in Fogg Lake. The town and its residents were forever changed by the disaster in the nearby Bluestone Project labs. The pair unearths shocking truths about what happened that fateful night, but they are playing with fire—someone in town knows what they've discovered and will do anything to make sure the secrets stay buried.
Romance Suspense | Fiction [Berkley, On Sale: January 5, 2021, Hardcover / e-Book, ISBN: 9781984806819 / eISBN: 9781984806833]
Danger, intrigue, romance, a perfect Jayne Ann Krentz read!
To save his father's life, North pairs up with a questionable go-between to find a powerful relic.
Jayne Ann Krentz is at her very eerie, mind-bending, keep-you-guessing best.
***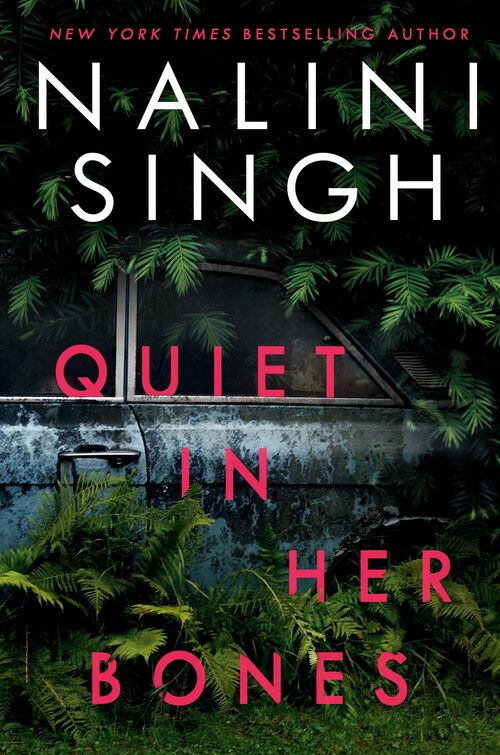 In this gripping thriller set in New Zealand, New York Times bestselling author Nalini Singh takes you into the twisted world of an exclusive cul-de-sac located on the edge of a sprawling forest.
 
My mother vanished ten years ago.
So did a quarter of a million dollars in cash.
Thief. Bitch. Criminal.
Now, she's back.
Her bones clothed in scarlet silk.
 
When socialite Nina Rai disappeared without a trace, everyone wrote it off as another trophy wife tired of her wealthy husband. But now her bones have turned up in the shadowed green of the forest that surrounds her elite neighborhood, a haven of privilege and secrets that's housed the same influential families for decades.
The rich live here, along with those whose job it is to make their lives easier. And somebody knows what happened to Nina one rainy night ten years ago. Her son Aarav heard a chilling scream that night, and he's determined to uncover the ugly truth that lives beneath the moneyed elegance…but no one is ready for the murderous secrets about to crawl out of the dark.
Even the dead aren't allowed to break the rules in this cul-de-sac.
Thriller | Thriller Psychological [Berkley, On Sale: February 23, 2021, Hardcover / e-Book, ISBN: 9780593099100 / eISBN: 9780593099117]
***
For more book reviews and articles by Debbie Wiley, be sure to check out her page on Fresh Fiction!