Times are stressful right now. Parents and teachers are learning how to implement distance learning, going to the grocery store feels like a live version of Pac-Man, and we're all desperately hunting for toilet paper. Nerves are frayed as everyone fears that even the slightest cough could mean a dangerous virus has entered their home. Quarantines are the norm. Who would have thought this is what 2020 had in store for us? Now, more than ever, is time to stop, take deep breaths, and read some good books that take us all away to other places right now. Urban fantasy and fantasy are two of my favorite genres and fortunately, there are some phenomenal new books out there right now to dive into. Here are a few of my recent favorites:
The Mercy Thompson series by Patricia Briggs is one of my go-to series when things seem depressing as Mercy Thompson Hauptman is one of the best kick-butt, loyal, and compassionate characters out there. SMOKE BITTEN is the latest in the series and things are definitely in a chaotic state in the Tri-Counties. Mercy's mate and Alpha wolf, Adam Hauptman, has been emotionally distant, a rarity for a werewolf. There's also dissension within the pack over Adam's daughter, Jesse, and his ex-wife, Christy. Meanwhile, a dangerous escapee from Underhill is roaming around in their territory, and the havoc this fae can create is disastrous. Never mind that another wolf pack has moved in and wants to take over the Tri-Cities territory.
SMOKE BITTEN hits close to home in our current environment, as the mysterious smoke attacking people is all too similar to the invisible virus keeping us all home right now. Mercy's love and loyalty are tested to the extreme in SMOKE BITTEN and I love that she remains steadfast and true to her friends and family no matter the odds. SMOKE BITTEN is even more perfect right now as it shows the power of love for all in a community in a time when our community bonds are being sorely tested by a pandemic crisis.
Jennifer Estep's CRUSH THE KING is the third book in her Crown of Shards series and concludes a trilogy with the Regalia Games. The Regalia Games showcases competitions between champions of the various kingdoms. All the kings, queens, nobles, and warriors of the kingdoms attend, each bringing their best finery and magic. Some of the competitions involve the kings and queens themselves, whereas others feature champions carefully selected by their kingdom. Queen Everleigh Saffira Winter Blair (known to her friends as "Evie") is making her first appearance at the Regalia Games, and she knows a show of strength in every action is necessary. She also has another motivation… Evie intends to see the king of Morta dead.
Evie is a strong heroine, willing to protect others even when they don't see eye to eye. Some of her choices only increased my admiration for her as she is truly heroic, even in her struggles with what is best to do overall for the people of Bellona. Heroism right now, particularly when we see the real-life sacrifice of health care workers, is a poignant and particularly current theme that makes CRUSH THE KING all the more relevant.
THE FENMERE JOB by Marshall Ryan Maresca is third in the Streets of Maradaine series and part of the overall Maradaine world. Characters from Marshall Ryan Maresca's four interrelated series are starting to crossover, and readers will recognize the Thorn from the Maradaine series. In THE FENMERE JOB, Verci Rynax had promised his wife he was out of the family business for good. From now on, the bakery would be their livelihood with no more thieving hijinks planned with his brother, Asti. The truce with their old ally, Josie Holt, is still standing and they are looking towards the future. Unfortunately, that peace is just a façade as Josie has struck a deal with someone else and is planning to move a drug similar to effitte, called efhan, into their neighborhood. Can Asti and Verci, along with the rest of the Holver Alley Crew, pull off one more heist in order to preserve the peace? And how will the appearance of the Thorn affect the balance of power?
Marshall Ryan Maresca once again creates a captivating and enthralling fantasy novel set in the world of Maradaine where friendships and alliances can grow or wane as the political climate of the underworld changes. I love the complexity of the Maradaine world as a whole, as each series allows us to see things from the viewpoint of a different constituency of Maradaine. THE FENMERE JOB is another must-read for all fantasy fans as Marshall Ryan Maresca has crafted one heck of a world with his four interconnected Maradaine series!
Urban fantasy and fantasy books continue to offer us both an escape from our current quarantined reality along with the hope that the heroism of the various characters offer us. What are some of your favorite urban fantasy and fantasy reads right now?
You can find more of Debbie's Reviews and Book Recommendations here: http://freshfiction.com/user.php?id=9742 . 
***
BOOKS RECOMMENDED IN THIS ARTICLE: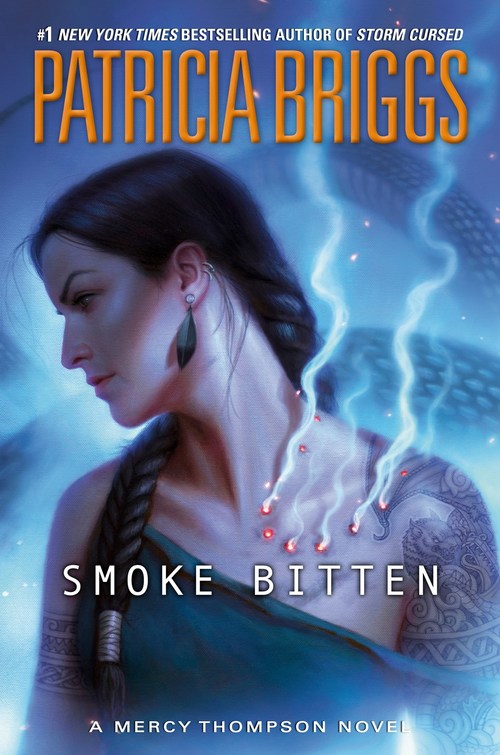 Mercy Thompson, car mechanic and shapeshifter, faces a threat unlike any other in this thrilling entry in the #1 New York Times bestselling series.
I am Mercedes Athena Thompson Hauptman.
My only "superpowers" are that I turn into a thirty-five pound coyote and fix Volkswagens. But I have friends in odd places and a pack of werewolves at my back. It looks like I'm going to need them.
Centuries ago, the fae dwelt in Underhill—until she locked her doors against them. They left behind their great castles and troves of magical artifacts. They abandoned their prisoners and their pets. Without the fae to mind them, those creatures who remained behind roamed freely through Underhill wreaking havoc. Only the deadliest survived.
Now one of those prisoners has escaped. It can look like anyone, any creature it chooses. But if it bites you, it controls you. It lives for chaos and destruction. It can make you do anything—even kill the person you love the most. Now it is here, in the Tri-Cities. In my territory.
It won't, can't, remain.
Not if I have anything to say about it.
Fantasy Urban [Ace, On Sale: March 10, 2020, Hardcover / e-Book, ISBN: 9780440001553 / eISBN: 9780440001560]

Just the normal life of Mercy

A new danger is after the Tri-Counties….

Plucky coyote skinwalker manages to save her werewolf pack again
***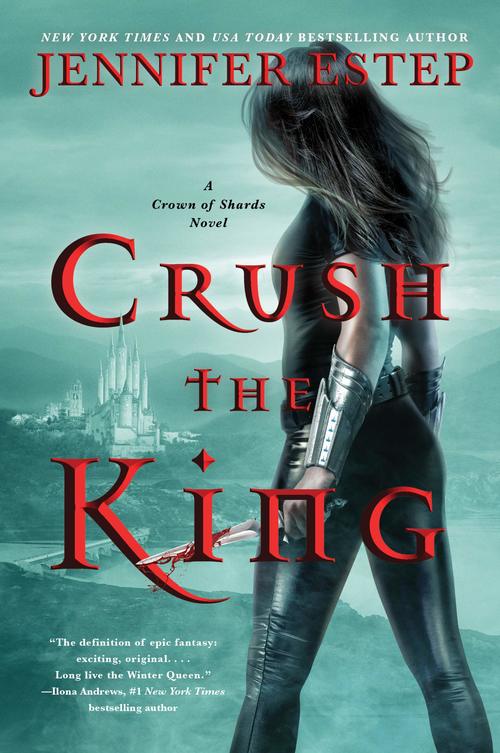 A fierce gladiator queen must face off against her enemies in an epic battle in this next thrilling installment of New York Times and USA Today bestselling author Jennifer Estep's Crown of Shards series—an action-packed adventure full of magic, murderous machinations, courtly intrigue, and pulse-pounding romance.
Queen Everleigh Blair of Bellona has survived the mass murder of the royal family, become a fearsome warrior trained by an elite gladiator troupe, and unleashed her ability to destroy magic. After surviving yet another assassination attempt orchestrated by the conniving king of Morta, Evie has had enough. It's time to turn the tables and take the fight to her enemies.
There is no better opportunity to strike than during the Regalia Games, a time when warriors, nobles, and royals from all the kingdoms come together to compete in various sporting events. With the help of her loyal friends, Evie goes on the attack at the Regalia, but things don't turn out the way she hopes. Soon, she is facing a terrifying new threat, and she will have to dig deep and learn even more about her growing magic if she has any chance of defeating her foes.
Because to secure her throne and ensure her kingdom's survival, Evie must think like a true Bellonan: she must outsmart and outwit her enemies . . . and crush the king.
Fantasy [Harper Voyager, On Sale: March 17, 2020, Paperback / e-Book, ISBN: 9780062797698 / eISBN: 9780062797667]

Let the Regalia Games begin…

Hard to say Goodbye – so many battles, can she win the war and Crush the King?
***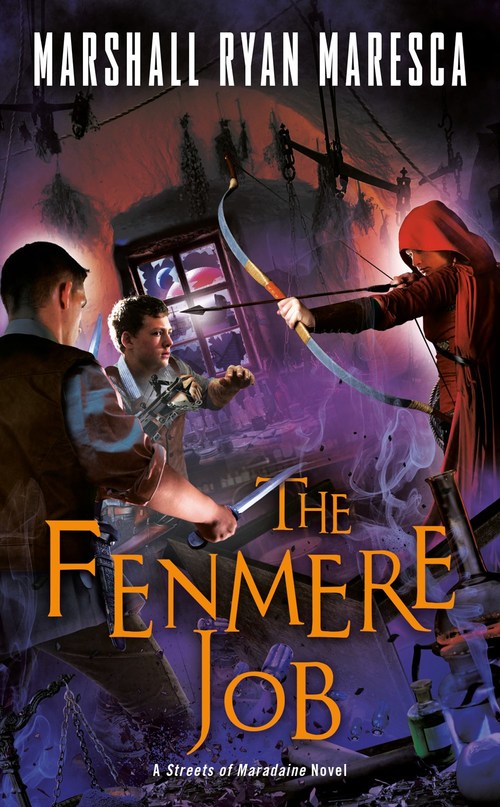 Mixing urban and high fantasy, the third Streets of Maradaine novel follows the crew of outlaws led by the Rynax brothers as they struggle to save Holver Alley from a new threat.
An uneasy calm has filled the neighborhood of North Seleth, as the survivors of the Holver Alley fire return to normal, honest lives. But Asti and Verci Rynax and the rest of the Holver Alley Crew know the peace won't last. Josie Holt, once an ally to the Rynaxes, is now working her own agenda with the mage circle that has moved into the neighborhood.
Asti learns that Josie plans to smuggle the drug efhân through North Seleth, which can only mean she is in league with the Fenmere cartel. The Rynax brothers want to wait for the right moment to strike at Josie, but they and the rest of the crew agree that they have to stop the efhân shipment, keep the drugs out of their neighborhood, and stop Fenmere from getting a toehold on the neighborhood.
One more problem: The Thorn. The vigilante from Fenmere's part of town has come to North Seleth, looking to burn Fenmere's whole empire down to ashes. When the Thorn's strike collides with the crew's operation, the delicate peace in the neighborhood crumbles, and an all-out war between mages, gangs, thieves, and the Thorn might fill the streets of Maradaine.
Fantasy Urban | Fantasy [DAW, On Sale: February 25, 2020, Mass Market Paperback / e-Book, ISBN: 9780756414818 / eISBN: 9780756414825]

A must read for fantasy fans!