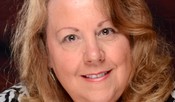 It took me a long time to decide to write a second mystery series. I'd heard that although readers want their favorite authors to produce more books, they also tended to be very upset with the author if her new series was too different from her previous one. I'd also been told that some readers might feel that if an author writes more than one book a year, she was just being greedy and "cranking" them out. So I used these fears as an excuse I to stick to what I was comfortable doing—writing one Scumble River mystery every twelve months.
But then a character named Devereaux Sinclair popped into my head and started telling me about her life. Dev, which she assured me was what most people call her, was a financial advisor for six years before buying her hometown dime store. Her boss viewed the glass ceiling as a protective barrier and her colleagues committed most of the seven deadly sins before their first coffee break. She lives in the fictional town of Shadow Bend, Missouri with her grandmother, Birdie. Her father is in jail for vehicular manslaughter and her mother is hiding from the shame in California. Dev has two best friends—a cynical bad girl named Poppy Kincaid who owns Gossip Central, the local bar, and Boone St. Onge, a small-town lawyer who handles the local divorces and real estate deals.
Once Dev had shared her story with me, I sat down and wrote LITTLE SHOP OF HOMICIDE, and when it was finished, I thought that was the end of Ms. Sinclair. Apparently, she disagreed, because she started haunting my dreams. She insisted that her life was too interesting to be told in one book, and nagged me until I wrote the next installment—NICKELED-AND-DIMED TO DEATH. This book takes place around Easter, and Dev's purchase of a set of antique chocolate bunny molds sets her off in a direction she hoped she'd never have to travel.
And yes, Dev has already started telling me her next story. It seems that the Shadow Bend book club meets in her dime store and the author that is coming to speak to them has an interesting secret…or two…or three.
—Denise Swanson, New York Times bestselling author
To comment on Denise Swanson's blog please click here.