Thank you, Fresh Fiction for inviting me to blog today! I'm Dianne Emley, author of the L.A. Times bestselling Detective Nan Vining "thrillogy": THE FIRST CUT, CUT TO THE QUICK, and, just out, THE DEEPEST CUT. These three are a thrillogy because they have an overarching storyline in which Nan Vining obsessively pursues the man who attacked her and left her for dead, the creep who Vining and her teenage daughter call T.B. Mann—The Bad Man. The Nan Vining series continues! I'm working on the fourth which will be out in 2010.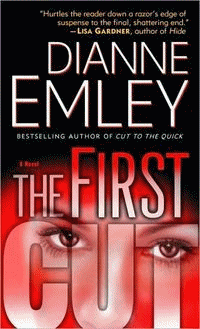 I've learned a lot about the art and business of writing since the first book hit the shelves. I've become not just smarter, but wiser. I've developed a few rules that I strive to follow when I'm writing and editing a book and some that govern my behavior when the book is out. I'd like to share these with you. Herewith:
Dianne Emley's Ten Commandments of Fiction Writing

1. I shall heed good editorial advice, shun bad advice, and learn how to tell the difference.