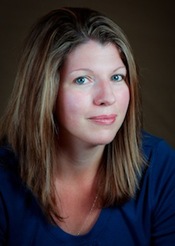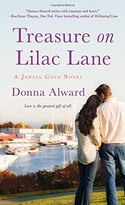 It all started with a side room in a little shop in Mahone Bay, NS. We had a family day out and were browsing around and there they were…racks of vintage clothes. We saw shoes, coats, dresses… and while my husband wasn't particularly keen on the clothing, my daughters and I were in heaven. We ooohed and aaaahed over several items, and in particular, a beautiful wedding dress.
It was way too small for any of us, and my daughters were wayyy too young to think about wedding dresses (and still are!) but I took a picture of it anyway, that doesn't do it justice. The ivory satin and the lace were just stunning. I knew then that someday it would make its way into a book. But I didn't know when, or how.
But I finally found the right moment. It's Abby's wedding dress in TREASURE ON LILAC LANE (Oct 28).  And it started my fascination with searching for vintage clothing for my characters to wear for her big day, including the heroine, Jess, who is Abby's Maid of Honor. After all, in THE HOUSE ON BLACKBERRY HILL, Abby inherits her great-aunt's house and with it a treasure trove of antique clothing. It only made sense for her big day to take advantage of that.
It was so much fun looking at all the pretty things!
I have a real love for the vintage look, and so does one of my girls. She loves the flapper look from the 20's, and has a black fringe dress that she wears with heels. She also looks really great in 40's and 50's styles, with gathered skirts and skinny waists and red lips. Me? I'm particular to the early 1900's, before WWI, with the tucked blouses and long skirts. Season One of Downton Abbey had me in heaven!
All told, I came up with some really fun pics that gave me visual inspiration, and pinned them on my pinterest page. Click the links to check them out!
Here's a 40's fancy dress…even my husband thinks this one is pretty!
This one is what I chose for Jess's bridesmaid dress. With her long, dark curls I figured she'd be stunning. Plus I love navy. I don't know why, but I do.
But I think the favorite one is this evening dress. Maybe it's because red is my favorite color, but this is just so classy and glamorous! I also think the neckline is simply MADE for fabulous jewelry.
And let's not forget jewelry! This was what I had in mind for Jess to wear with her dress.
What about you? Do you like the vintage look, and if so, what time period?
About the Author
A busy wife and mother of three (2 daughters and the family dog), Donna Alward believes hers is the best job in the world: a combination of stay-at-home mom and romance novelist.
An avid reader since childhood, Donna always made up her own stories. She completed her Arts Degree in English Literature in 1994, but it wasn't until 2001 that she penned her first full-length novel, and found herself hooked on writing romance. In 2006 she sold her first manuscript.
Donna loves being back on the East Coast of Canada after nearly 12 years in Alberta where her Harlequin career began, writing about cowboys and the west. Donna's debut Romance, Hired by the Cowboy, was awarded the Booksellers Best Award in 2008 for Best Traditional Romance. Donna loves to hear from readers; you can contact her through her website or visit her facebook page, or through her publisher.
About TREASURE ON LILAC LANE
Sometimes the journey home is its own reward.
Once upon a time, Rick Sullivan had a promising future. One of Jewell Cove's star athletes and reigning heartthrobs, he joined the Marines and had the world in the palm of his hand…until it all came crashing down. His honorable discharge doesn't make him the hometown hero everyone wants him to be, and there's little reprieve from the demons that haunt him at night. Still, even though it seems that all hope is gone, fate has something else in store…
Just hearing Rick's name is enough to give Jess Collins a headache. Years ago, they'd been close. Now she barely knows the man Rick has become since his return from service…then again, Jess isn't that same young, naïve girl anymore either. And while there's a powerful attraction between them–one that yields a greater passion than Jess could have ever imagined–both are wary about opening their hearts to love…and loss.
But happy endings don't come easily when long-buried secrets insist on rising to the surface. Will their pasts tear them apart–or can love find a way to heal them both?