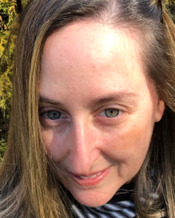 I'm so excited to be here at Fresh Fiction today celebrating the release of my sexy paranormal romance, PROTECTING HIS WITCH, the first in my new Keepers of the Veil series. If you like contemporary paranormal romances, witches, curses and alpha heroes, then PROTECTING HIS WITCH is the book for you!
This isn't your typical witch book. There's no coven. Don't get disappointed. Our heroine has witchy powers. Kat just doesn't know she's one of the chosen seven Pleiades witches. Sure she's got the ability to pick up people's thoughts and she can even hop to a different dimension, although she doesn't exactly have control of the hopping.  But she doesn't know why witch hunters keep trying to abduct her. The person she must trust to protect her is the gorgeous one-night-stand she accidentally cursed when he kicked her out of his dorm room years ago. Naked. Avoiding a repeat of that night is her priority.
Matt recognizes what Kat is and feels obligated to help her, but only after she reverses that curse: May you never find satisfaction with another woman. But bonding to a Pleiad and getting involved with the druidic ways he turned his back on long ago are not on his lifetime to-do list:
Softly he said, "Ten years ago you started whatever this thing is between us. You cursed me and then disappeared. How do you pop in and out of my life? Are you playing a game?" He massaged his forehead and whispered, "You really are one of the witches, aren't you?"
Witches?
His low, teasing laugh sent a wave of goose bumps down the back of her thighs. Her gaze shot to his. His blue eyes simmered. He had shifted gears. This wasn't the cool, iron will, interrogator Matt. Memory sucked her back to that night so long ago. This was the wild man. The man who exuded passion with each subtle movement. Answering need echoed throughout her body, burning her with the memory of their past.
He leaned over her. His eyes dilated like a cat about to pounce.
"I'm not a witch." She tried to breathe evenly and mask her body's reaction to the idea of being pinned again beneath all those hard contours. So big, broad…and, oh God, she was in trouble. Lust sizzled through her every nerve ending.
He laughed with a deep, rich sound. "Deny it all you want."
I think you'll love Matt and Kat. These characters just sizzle together on the page, and naturally where there's sizzle, there's fire. Thank you for having me visit! I love to hear from readers. So don't be shy.
About PROTECTING HIS WITCH
The last thing he wanted was to fall for a witch…
Veterinarian Kat Ramsey hasn't a clue that she's a witch. Sure, she can read minds, and there's the whole "dimension-hopping" issue that she can't quite control, but Kat is determined to keep things normal. That is, until she accidentally hops into the Otherworld, and runs smack into Matthew Ryan?the seriously hot one-night stand from years ago who shoved her out of his dorm. Naked.
And there's the tiny matter of the curse she gave him.
May you never find satisfaction with another woman. Billionaire and former druid Matthew Ryan hasn't forgotten the curse, or the witch who gave it to him. Kat's unexpected return means the curse will finally be broken. Unfortunately, his libido has other ideas?like how to get her back into his bed one last time. But far more worrying is his suspicion that Kat is the seventh Pleiades witch. Because while he's turned his back on his druidic ways, he's still bound to protect the woman who made his life hell…
About the Author
Zoe Forward is a hopeless romantic who can't decide between paranormal and urban fantasy romance. So, she writes both. In addition to being a mom to one rambunctious kindergartener and wife to a conservation ecologist who plans to save all the big cats on the planet, she's a small animal veterinarian caring for all the small furries, although there is the occasional hermit crab.
When she's not madly typing at her laptop, she's tying on a karate belt for her son or cleaning up the newest pet mess from the menagerie that occupies her house. She's madly in love with her globe trotting husband of ten years and happy when he returns to their home base in North Carolina.