I'm a sucker for holiday stories. Movies, books, music…if it tells a story set around the holidays, I want to know more! Being a romance writer who celebrates hope and love with every book she writes, the happier the story the better.
So I was thrilled when I was asked to write my first holiday novella back…oh, let's just say a few years (okay, okay, fifteen years) ago. What could be more fun than getting to tell my very own holiday story? Well, it turns out that while it was a blast getting to dream up a fun little holiday adventure, writing a satisfying story when you only have one hundred pages to tell that holiday tale is a wee bit of a challenge! I'm used to having four times that many pages, and even then, there are always parts that I have to trim down or leave out altogether. How in the world was I going to pull this off?  Suddenly this Christmas present was starting to feel a bit more like a trick from the Grinch.
With the help of a few brainstorming author pals and possibly munching my way through far more Christmas cookies than was wise or recommended, I did find my way through that story and was really happy (and relieved!) with how well it was received by the readers. That adventure led to another holiday anthology invitation, and another, and suddenly I was heading up those anthologies, and all of it was wonderful and fun…except, you know, that part about the hundred pages.
That never got easier.
Along the way, I did learn a few tricks that would make the storytelling journey more enjoyable and hopefully that much more fulfilling to me and my readers. One of those handy bits of wisdom was to conjure up a story where the hero and heroine had a pre-existing relationship when the story opens. That way I wouldn't have to go from strangers-to-forever lovers in such a short span of page-time. It made perfect sense. Totally the smart thing to do.
Did I learn?
Well, my tenth holiday novella hits the stands on October 30th, and I couldn't be more thrilled to be in such amazing company. Not to mention excited to get to share with readers of my Blue Hollow Falls series yet another holiday story set in my little Blue Ridge mountain town. I even made sure the story works well for series followers and newcomers alike. After nine previous efforts, not to mention the numerous other non-holiday novellas I'd written, I was so on top of this thing!
Except, maybe, for that little part about them already knowing each other. Which would have made things so much easier. But then…where's the fun in that? The challenge? The you-can-too-do-this motivation and the reward for proving myself right? (That's the story I'm telling myself anyway!)
What it comes down to, I've realized, is that I have to tell the stories that those characters want me to tell. Is it my fault they're complete strangers who really, really need to find their way to each other and are counting on me to pull this off? How could I say no? And at the holidays, no less!
I was recently asked by an interviewer to sum up this latest novella, Christmas in Blue Hollow Falls, in one sentence. (One sentence!?! More restrictions!) Okay, okay, here goes:
"A bar brawl after a Christmas Day wedding entangles the maid of honor with the chef sent to protect her…bail money and a whirlwind holiday romance ensue."  Tada! That actually does manage to pretty much sum it up. Well, the opening chapter anyway…
Then I had to figure out how do they get from there to Happy Ever After? Why does her bridesmaid dress play an ongoing role? And what's with that train caboose? So many questions.
Somehow, some way, with frosted reindeer-shaped cookies fueling me into the wee hours, I managed to find a way to answer them all. Again. And yep, I made it under the wire. In exactly one hundred pages.
Whew! I hope you love all of them.
Until next time…
Because, yes…I'm already writing next year's holiday novella. Two of them in fact. One for Halloween, one for Christmas. (How many baked goods will that require? Yet another question waiting to be answered…) Do they know each other before their story opens in either of those holiday tales? I'm betting you can guess the answer to that one.
Also? Send cookies!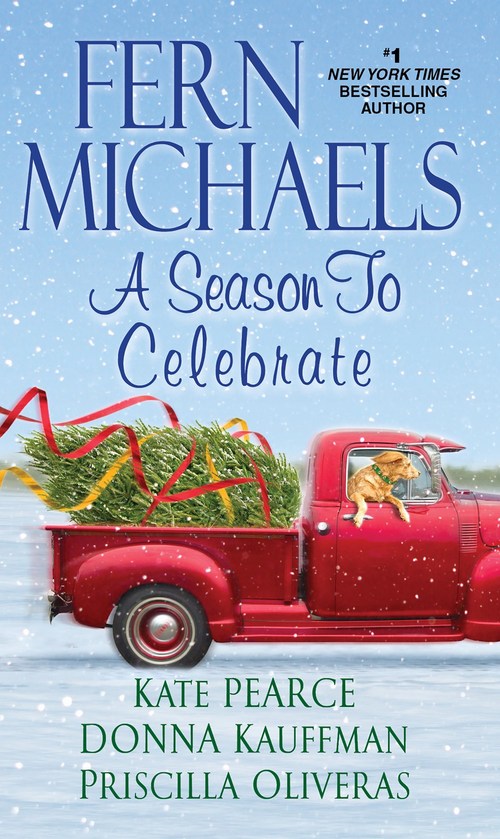 Make it a merry Christmas with four stories of the special way the holidays warm our hearts…
CHRISTMAS HOMECOMING * Fern Michaels
Former Air Force Pararescueman Kevin Matthews is back home
in Texas, working at his family's Christmas tree farm while
deciding his next move. Or maybe he won't move at all, if
sparks keep flying with the town's new surgeon, Kate
Stafford . . .
AN UNEXPECTED GIFT * Kate Pearce
Widower Billy Morgan wishes his grown children still needed
him. Good thing his longtime friend, Bella, does. She's
planning her son's Christmas wedding and Billy is happy to
help. Along the way they just might discover their own
occasion to celebrate . . .
CHRISTMAS IN BLUE HOLLOW FALLS * Donna Kauffman
Attorney Moira Brogan expects her brother's Christmas
wedding to be a peaceful affair. She doesn't expect to be
cornered by an unwanted lothario, rescued by a gorgeous
Aussie chef—or be swept off her feet by said chef. Nursing a
broken heart, the last thing she wants is a new romance. But
Hudson Walker has other ideas . . .
HOLIDAY HOMERUN * Priscilla Oliveras
Event planner Julia Louisa Fernandez dreams of a life in
Chicago. But her family in Puerto Rico expects her to take
over the catering business. Former pro baseball player Ben
Thomas knows what that's like—and when they meet, he might
be the one to inspire a winning strategy, just in time for
the holidays . . .
Novella / Short Story | Romance Holiday | Romance Anthology [Zebra, On Sale: October 30, 2018, Paperback / e-Book, ISBN: 9781420135749 / eISBN: 9781420135756]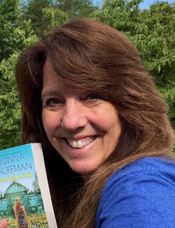 Click here to join me for a weekend of fun at READERS & 'RITAS, Nov. 9-11, 2018 in Allen, TX.
Donna Kauffman is the USA TODAY and Wall Street Journal bestselling author of over 70 novels, translated and sold in more than 26 countries around the world. Born into the maelstrom of Washington, D.C., politics, she now lives in the Blue Ridge Mountains of Virginia, where she is surrounded by a completely different kind of wildlife. In addition to being an author, she is also a DIYer, a baker, a gardener and a volunteer transporter for the Wildlife Center of Virginia and Rockfish Sanctuary. She loves to hear from readers. You can drop her a line to donna@donnakauffman.com. For more info about her latest releases, please visit her online at www.DonnaKauffman.com.