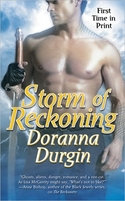 That's me.  Evil Overlord of my characters.
It's kind of just like that.
Evil Overlord: Plans to interfere with his targets' lives.
Me: Plan to interfere with my characters' lives.
Evil Overlord: Is constantly thinking, "What can I do to cause trouble for these people?"
Me: "What can I do next to cause trouble for these characters?
Evil Overlord: "In fact, what can I do to tear them to shreds?"
Me: In fact, what can I do to make things as difficult as possible?
Evil Overlord: "HOW SHALL I KILL THEM?"
Me: HOW SHALL I–
No, no no.  Wait a minute.  Here's where we part ways.
For me, it's How will they get out of it?
What new depths of themselves will they plumb to climb out of this personal disaster I've created, possibly while also saving the world?
(Possibly.)
Because the thing is, as the author, I don't usually have any idea how they're going to get out of what I put them into.  I'm so focused on getting them to the point of ultimate internal and external disaster (because, you know, that's just the way I am) that when I reach it, I often go…
Me: Uh, durrrr… NOW what are they gonna do?
The fun thing is how well it often works out.  If you read STORM OF RECKONING, you'll reach a point shortly before the end where…well, where things happen.  Go on, read it.  You'll know where I mean.  Well, confession:  I didn't know that was coming until about two pages before I reached it.  It was all, "Ahhhh!  What's Garrie gonna do?!  How's Trevarr going to get out of this one?!"  Complete with melodramatic punctuation.
And yet oddly, looking back on it…I don't know how that scene could have turned out any other way.  Or that I would have wanted it to.
(The very end?  Well, I knew THAT was coming.)
It's not all just a random power trip, by the way.  It's not doing unto for the sake of doing unto–
Evil Overlord: What are you talking about?  Of course it is!  And what a power trip it is!  Mwah ha ha!
*stuffs Evil Overlord into a gunnysack*
It's NOT.  By pushing my characters to the limit, I'm exploring who they really are…and in a way, I'm showing myself what can be done.  Paving the way for that mindset, so when I reach my own roadblocks in life (an overly-profound phrase if I ever heard one), I don't buckle or fold.  I don't exactly think, "What would Garrie/Trevarr do?"–that would maybe be kinda creepy.  But I do fall back into the awareness that how I deal with difficulties–what I envision for myself–has a huge impact on the resolution of those difficulties.
Muffled Evil Overlord: You are full of crap!  It's all about the POWER!
Yeah, yeah.  Move over.  My people have a world to save.  Just don't ask me how.
Comment to win a copy of STORM OF RECKONING, published by Tor Paranormal.
STORM OF RECKONING by Doranna Durgin is now available from Tor Paranormal
Lisa "Garrie" McGarrity is young woman once mentored by a ghost who now leads a ghostbuster team–all of whom are recently entangled with Trevarr, a fiercely driven demon-hunter from a different dimension. After tumultuous adventures in San Jose, the team finds themselves much changed and struggling to adjust, while Trevarr returns to this world–and to Garrie–a battered exile.
But Garrie and her team don't head for home; Quinn Rossiter has a lady friend in Sedona who needs their help. There, in that area of power convergence, Garrie is astonished to find the ethereal breezes quiet, the earth's activity so diminished as to be nonexistent…if you don't count those oddball surges that don't taste like our world at all. Soon enough, Quinn's skeptical friend soon goes missing…soon enough, their efforts to contain the situation go amazingly awry.
With Trevarr wary and alert, his opinionated not-cat bond partner dropping dire hints of trouble on their trail, Sedona ghosts rising to act out against Garrie wherever she goes, and one living Keharian ethereal breeze detector gone completely amuck and on the loose, she has only just so much time to figure out what's going on before the power plays are too much even for this one-of-a-kind reckoner and her otherworldly partner.
A little about Doranna:
Doranna responded to all early injunctions to "put down that book/notebook and go outside to play" by climbing trees to read & write. Such quirkiness of spirit has led to an eclectic publishing journey, spanning genres over 30 novels to include mystery, SF/F, action-romance, paranormal, franchise, and a slew of essays and short stories.
But after all that, mostly she still prefers to hang around outside her New Mexico mountain home with the animals, riding dressage on her Lipizzan and training for performance sports with the dogs. She doesn't believe so much in mastering the beast within, but in channeling its power. For good or bad has yet to be decided…
For more about Doranna's  books, you can catch up with her at her webstead, FaceBook, Twitter, or her blog.  There are also free bookmarks to be had!
Comment to win a copy of STORM OF RECKONING from Tor Paranormal.
To comment on Doranna Durgin's blog please click here.