Every writer expects criticism of his or her work. All of us are warned about this early in our careers. Something I heard years ago has stuck with me, and I think of it when I encounter such criticism: "I cannot expect to be universally loved and respected." My first one-star review was given to my debut novel, CODE BLUE years ago. And I expect to hear this particular criticism again as reviews appear for my latest novel of medical suspense, MEDICAL JUDGMENT. Certain people will complain because I write "Christian fiction."
I'm prepared to have my writing style criticized. Perhaps the reader doesn't like medical novels. Maybe I don't pack my work with enough suspense. It's possible that the characters are one-dimensional. All these are valid criticisms. But I was surprised and disappointed the first time I had my writing criticized because it was written from a Christian worldview.
I've noticed lately that the genre in which I write is now labeled "Inspirational" fiction. Perhaps that's appropriate in our politically correct climate, but it doesn't fully solve the problem. If we use this label, should we then also use terms like "Smutty fiction" or "Fiction containing lots of cursing?"
When I read something I don't like, I stop reading. I do the same with a TV program or a movie. Although in some situations you have no option, with books there's usually no trouble discovering what it's about. Your first clue is the blurb (back of the book, or on the website of an online bookseller). In addition, it's possible to thumb through the book (in a store) or read excerpts (online at Amazon). And if you don't like what you see—even if the book is offered free or at a discounted price—by all means, don't get it.
Some people will want to read what I'm comfortable writing, some won't. But the question remains: Should this type of fiction carry a warning tag, so people who are uncomfortable reading it (and I wonder why that is…hmm) can avoid it? You tell me.
Dr. Richard Mabry is a retired physician, now writing "medical suspense with heart." His previous novels have garnered critical acclaim and been recognized by programs including the ACFW's Carol Award, the Romantic Times' Inspirational Book of the Year, the Inspirational Readers Choice, and the Selah Award. He is a proud member of the ACFW, the International Thriller Writers, and the FHL chapter of the RWA. Medical Judgment is his tenth published novel.
He can be found on most aspects of social media: website, blog, Twitter, and Facebook, to name just a few.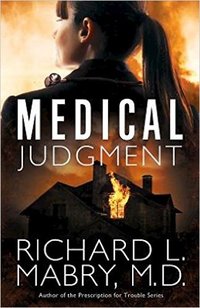 Someone is after Dr. Sarah Gordon. They've stalked her and set a fire at her home. Trying to recover from the traumatic deaths of her husband and infant daughter is tough enough, but she has no idea what will come next. Her late husband's best friend and a recovering alcoholic detective are trying to solve the mystery before it's too late, but both appear to be vying for her affection as well. Sarah finds herself in constant fear as the process plays out.
As the threats on her life continue to escalate, so do the questions: Who is doing this? Why are they after her? And with her only help being unreliable suitors in competition with each other, whom can she really trust?