As I drove my daughter to school yesterday, I was distracted (at a stoplight) by a sticker slapped on the bumper of the van waiting in front of us.
Where Does a Woman Belong?
In the White House.
My daughter said, "They must like Hillary."
"Maybe." Then, trying not to sound like an old codger, I mentioned how grateful I was that messages like this were part of her everyday life. "When I was your age, the response to that question would have been . . . In the Kitchen."
"Wow." My daughter gave me a compassionate smile. That was then. This is now. Thank God. She turned the music up, and we drove on.
I am a pre-Title Nine woman, raised in a community that didn't take kindly to the likes of Betty Friedan or Gloria Steinem. In my world, Billie Jean King's defeat of Bobby Riggs was greeted with bemusement. When Helen Reddy sang "I Am Woman," people looked heavenward or changed the radio station. Maybe women were strong, maybe invincible, but they didn't make a big deal out of it. They didn't roar.
I came to assume that, with a few exceptions from the nineteenth century, women wrote Really Great Books for Kids. Men were the ones whose serious books got seriously taught, whose names identified schools, streets, towns, literary tendencies. (I had friends who attended Longfellow, lived on Dickens Court, or in the city of Lowell. In high school, everything turned Kafkaesque.)
I was nearing the end of college when I began to understand there really were women authors out there, working hard and producing incredible books. There always had been. Perhaps the bright light of acclaim didn't shine on their efforts. Or, worse, they weren't published in their lifetimes, or at all. But they existed. (This was around the time that I realized that Great Books for Kids were actually literature, too.)
I began to seek out overlooked or forgotten authors. I wondered what determined a "Classic." Who decided who got published? Broke my heart, the things I read, about gender and class, race and ethnicity, genre and marketing, connections and power. Breaks my heart today. It's getting better. But there are still those writers . . . "Silences," author Tillie Olsen calls them in her book by the same name. "The silences I speak of here are unnatural," she writes, "the unnatural thwarting of what struggles to come into being, but cannot."
One woman who suffered such silence, and also managed to have a voice, shaped my characterization of Ruth Warren, the central character of my novel, BROKEN GROUND.
I first saw a photograph of Sanora Babb on the dust jacket of her novel, WHOSE NAMES ARE UNKNOWN, originally slated for release by Random House in 1939, but only published by the University of Oklahoma Press in 2004. Babb's strong features and (from what I later read) even stronger character continue to evoke Ruth for me. She has an open, attractive face that seems completely of her time. Neither tall, nor thin, by no means cover-model-perfect or movie-actress-beautiful, she appears hale and hearty; her firm jaw communicates strength and determination. No matter who holds the camera, Babb seems completely present—wise, kind, and observant. With her alert, intelligent eyes, she has the gaze of the best journalists. And she was one.
Babb based her lyrical and intimate novel, WHOSE NAMES ARE UNKNOWN, on her field notes from her work with the Farm Security Administration during the 1930s, and her own early experience as a child of the High Plains. The book addresses the same subject matter as John Steinbeck's THE GRAPES OF WRATH. But in tone and style the books stand in sharp contrast. (Among other things, critics say that Babb writes her story from an insider's perspective; Steinbeck's fable-like tale is delivered as if from the outside, looking in.) When THE GRAPES OF WRATH received great acclaim, it was decided there just wasn't enough readership potential for similar material—Dust Bowl Refugees, migrant farmworkers, the Great Depression. "What rotten luck," Babb's editor wrote, and then he shelved WHOSE NAMES ARE UNKNOWN.
Here's the thing. Babb's supervisor at the FSA loaned her notes to Steinbeck while he was working on TGOW. Her work fueled and informed his.
Sanora Babb persevered. She wrote other books and articles, married the Chinese-American cinematographer James Wong Howe in France because of anti-miscegenation laws in the States, went on to edit literary magazines and become Secretary for the West Coast League of American Writers. She survived blacklisting during the McCarthy era. She ran a Chinese restaurant owned by her husband. But WHOSE NAMES ARE UNKNOWN was only published when she was 97, 65 years after she wrote it, a year before her death.
Sanora Babb inspires me on many levels. Where does a woman belong? Surely she confronted this question. Then she turned up the music and drove on.
Set in the 1930s, BROKEN GROUND is the story of a young oilrig widow who tries to escape her grief and the Texas Dust Bowl by heading west to attend college. There she becomes immersed in the lives of Mexican migrant workers in a camp near Los Angeles, and learns of the long-term repatriation program of that era—the forced deportation without due process of people of Mexican heritage, many of them U.S. citizens. Ultimately, Ruth and her friend, WPA worker Thomas Everly, must decide what stand they will take in the fight against this injustice.
Giveaway
One reader will win a copy of BROKEN GROUND. Just leave a comment below.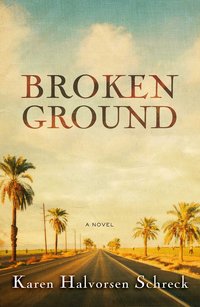 When a young oil rig widow escapes her grief and the Texas Dust Bowl, she discovers a surprising future—and new passion— awaiting her in California in this lyrically written romance by the author of SING FOR ME.
Newly married to her childhood sweetheart, twenty-one-year-old Ruth Warren is settling into life in a Depression-era, East Texas oil town. She's making a home when she learns that her young husband, Charlie, has been killed in an oil rig accident. Ruth is devastated, but then gets a chance for a fresh start: a scholarship from a college in Pasadena, CA. Ruth decides to take a risk and travel west, to pursue her one remaining dream to become a teacher.
At college Ruth tries to fit into campus life, but her grief holds her back. When she spends Christmas with some old family friends, she meets the striking and compelling Thomas Everly, whose own losses and struggles have instilled in him a commitment to social justice, and led him to work with Mexican migrant farmworkers in a camp just east of Los Angeles. With Thomas, Ruth sees another side of town, and another side of current events: the forced deportation of Mexican migrant workers due to the Repatriation Act put into place during President Herbert Hoover's administration.
After Ruth is forced to leave school, she goes to visit Thomas and sees that he has cobbled together a night school for the farmworkers' children. Ruth begins to work with the children, and establishes deep friendships with people in the camp. When the camp is raided and the workers and their families are rounded up and shipped back to Mexico, Ruth and Thomas decide to take a stand for the workers' rights—all while promising to love and cherish one another.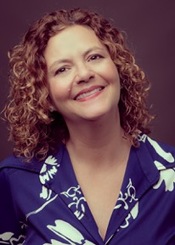 Karen Halvorsen Schreck is the author of the historical novel SING FOR ME (Simon & Schuster), which was praised in a Publishers Weekly starred review as "an impressive debut." She has received various recognitions for her work, including a Pushcart Prize, an Illinois State Arts Council Grant, and an Evangelical Press Association award. Her young adult novel WHILE HE WAS AWAY WAS a finalist for the Oklahoma Book Award, and DREAM JOURNAL (Hyperion) was a 2006 Young Adult Booksense Pick. Karen lives with her husband and their two children in Wheaton, Illinois.