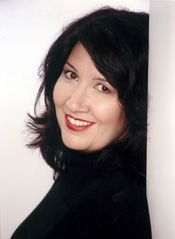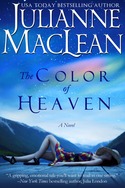 For a solid 24 hours, my novel THE COLOR OF HEAVEN outsold THE GIRL WITH THE DRAGON TATOO on Kindle, and for the next two weeks sold at a record rate of a book a minute.
It rose to #4 on the general fiction Kindle list at Amazon and hit #1 on the contemporary romance list.
I was flooded with letters from readers who believed my fictional story was true, and I had to write back and explain it was not.  Some went hunting on the internet, looking for actual news items about the story.  Other readers wrote to share personal stories of connection with lost loved ones, who they believed were watching over them from some other dimension.
THE COLOR OF HEAVEN isn't a religious book.  In fact, it's more of a love story than anything else, but it touched a nerve with so many different kinds of people – men and women, young and old.
Some key parts of THE COLOR OF HEAVEN are based on my own life experiences (the character's car accident and her daughter's illness) but the essence of the story comes from my imagination and my research into the fascinating subject of actual, documented near death experiences.
I read another bestseller on the subject – a non-fiction book entitled 90 MINUTES IN HEAVEN, where the author recounts his ordeal of being declared dead at the scene of an accident.  He then goes on to describe how he regained consciousness 90 minutes later and was able to give a full account of his journey to heaven and back.  It's a compelling read, and I highly recommend it.
Which brings me to the question – what happens when we die?  Scientists, academics, and spiritualists have been studying and debating the subject since the beginning of time, and still the answer is not clear.  The theories cannot be proven or disproven.
What do YOU believe?  Did you see the movie Hereafter
?  Do you believe such a tale could have any basis in reality?  Do you remember the Robin Williams film What Dreams May Come
?  How about Charlie St. Cloud
?
Special Offer – THE COLOR OF HEAVEN e-book is on special for 99-cents until Mother's Day at most online bookselling locations and would make a wonderful gift.  It's a story about everlasting love between mothers and daughters, and soul mates who find each other through any obstacles.  Please enjoy it for yourself or give as a gift to your mom, and if you are moved by the story, I would love to hear from you through my website at www.evmitchell.com.  Happy Reading!
Buy THE COLOR OF HEAVEN today for only 99 cents
To comment on E.V. Mitchell's blog please click here.