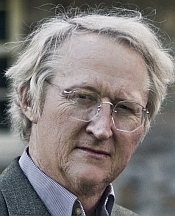 In my many dialogues about ASHES OF THE EARTH I have discovered a remarkable, though sometimes reluctant, resonance among others about post-apocalyptic scenarios. I expected that initial reactions from readers would be along the lines of "why select such a dismal context?" or "why would you want to spend so much time in such a dark, unlikely place?" –but that has not been the case.  Instead many readers seem almost eager to offer their personal view of the post-apocalyptic world. They don't reject the notion that such scenarios are a real possibility, they want to explain their own version of what that world would be like. Apparently we have lived so many years with the Doomsday Clock set at five minutes to midnight that the apocalypse has taken on a familiar aspect. We may often treat discussion of the apocalypse as taboo but it is uncanny –even alarming—that so many of us are thinking about it.
I have been truly amazed at how many people harbor ready, well-considered views on what post-apocalyptic geographies would be safe, what technologies would endure, what types of people would be most likely to survive, or even what food survivors would be eating. This may not be a topic for dinner table discussion but it is one that many of us have harbored secret thoughts about, often in great detail. Realizing that I have obviously spent a lot of time thinking about such scenarios tends to make others ready to divulge these dark secrets. I have become their post-apocalyptic confessor.
ABOUT ELIOT PATTISON
Edgar Award winning Eliot Pattison has been described as a "writer of faraway mysteries," a label which is particularly apt for someone whose travel and interests span a million miles of global trekking, visiting every continent but Antarctica. An international lawyer by training, Pattison first combined his deep concerns for the people of Tibet with his interest in fiction writing in THE SKULL MANTRA, which launched the popular Inspector Shan series. Pattison's fascination with the 18th century American wilderness and its woodland Indians led to the launch of his second critically acclaimed Bone Rattler series. The author's newest work, ASHES OF THE EARTH, marks the launch of his third series, set in post-apocalyptic America. A former resident of Boston and Washington, Pattison resides on an 18th century farm in Pennsylvania with his wife, three children, and an ever-expanding menagerie of animals. For more info on the author, please visit: www.eliotpattison.com
To comment on Eliot Pattison's blog please click here.