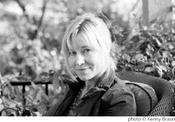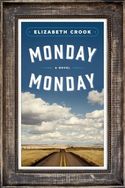 All right, so I was only seven in 1966 — not a child of the sixties, but a child in the sixties. And I wasn't one of those kids who knew about popular music. I spent most of my early years in the small Texas town of San Marcos, hardly on the cutting edge of pop culture. Music came to me in a spotty, haphazard and completely disjointed way, and it wasn't until a few years ago, when I started writing the novel MONDAY, MONDAY, a novel that begins in 1966, that I found I had suddenly tapped into one of the richest veins in American music. I was, of course, a few decades behind everyone else. I had arrived at the sixties in my fifties.
It's not that music was unimportant to me as a kid: I liked singing. I sang along to Burl Ives records. I could sing as loud as the next kid. I remember standing shoulder to shoulder with other children on small bleachers in a small room at Crockett Elementary, belting out a song in French that none of us knew the meaning of. I thought the words were "Allawetta, John T. Allawetta."
My dad was a politically liberal Baptist preacher who had resigned as the pastor of First Baptist Church in Nacogdoches to run for congress on a civil rights platform in 1961, and had lost, and had taken a job as president of the San Marcos Baptist Academy. When Lyndon Johnson became president he appointed my dad director of VISTA and then Ambassador to Australia, which for me meant a departure from San Marcos in 1967 to Arlington, VA and then, in 1968, when I was nine, to Canberra.
In Arlington I was hooked on watching the Monkees and was really into their theme song, along with "Snoopy vs. the Red Baron" by the Royal Guardsmen and "Honey" by Bobby Goldsboro. But it was in Canberra that I first experienced a real adrenaline rush from music.
One of the guards at the embassy was a marine named Gary Metcalf who guarded the embassy during the day and would come back in his blue jeans in the evenings to join the crowd outside that was protesting the Vietnam War. He had served in Vietnam and knew what he was talking about. My Dad would get him to come inside. Gary and I were buddies; we would hang out in the living room listening to music. We listened to a lot of Bob Dylan, but the songs I remember most from those times are the Beatles' "
Yesterday
" and Jimmy Durante's "
One of Those Songs
."
Gary found out that the butler was hiding the pantry key under the candelabra in the dining room, so we started raiding the pantry—Gary would take the cigarettes and I would take the chocolates.
After Nixon was elected and sent my family packing back to Texas, Gary came to see us in San Marcos. He showed up with a monkey on his shoulder and the word "LOVE" embroidered on the fly of his jeans. I was totally smitten. He borrowed my dad's saddle to ride horseback through Mexico, and came back without it. Later we were informed he had died in a tragic skydiving incident. I miss him to this day, and have tried to track down family or friends but can't find any connection. "Yesterday" still brings a flood of tears.
Read more at FSG's Bookkeeping Blog
To comment on Elizabeth Crook's blog please click here.