The third book in my Profiler series, SEIZED, finds my normally dedicated, workaholic FBI profiler Evelyn Baine a little lost. She recently solved the case that drove her into the FBI – the disappearance of her best friend Cassie when they were twelve years old – and now she wonders if she still has the drive to be a profiler. To make things worse, her boss is pissed at her for some of the decisions she made on her last case, so he's punishing her with BS assignments. The most recent is the interview of an incarcerated bomb-maker in a Montana prison. So, when fellow agent Jen Martinez stops her outside the prison and asks for an unofficial profile, Evelyn sees it as a chance to determine if she still has the passion for her job.
When an FBI agent you don't know asks you to help out on an unsanctioned case:
Don't get into the car with her. But Evelyn does, and instead of handing over a case file, Jen Martinez drives her into the Montana wilderness, to see the cult she wants profiled in person. The closer they get, the more remote it becomes.
Don't head out into an area known for being near the Unibomber's cabin! As they drive toward the cult, Jen tells Evelyn that the Unibomber's bunker – where he built his bombs and hid from authorities – is only about twenty minutes away. It's a sign of what they might find in this remote area of Montana: there are some people who just want to get away from city life, but others who have a much more devious reason to hide.
Don't drive into a compound of known survivalists. That's where Jen takes Evelyn. The FBI's Behavioral Analysis Unit has already told Jen this group isn't a threat, but Jen doesn't buy it, and she thinks the only way to prove that this "cult" is more than it seems is to get Evelyn close…very close.
Do investigate as stealthily as possible. Once they arrive, Jen and Evelyn are taken hostage, and that's where SEIZED really begins. Because inside the compound, Evelyn realizes Jen is right and the BAU was wrong: this group is way more than a simple group of survivalists trying to stay off the grid. They have stockpiled weapons, they know how to stay below the radar, and as Evelyn gathers Intel, she realizes they have something very big planned.
Figure out how to get information to the outside world. Stuck inside the compound, with no escape, Evelyn knows she has to somehow get word to the FBI that an attack is coming. It means the FBI needs to breach the compound…but if that happens, Evelyn will be the first to die.
About SEIZED: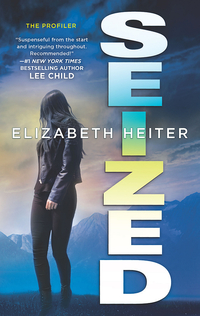 Danger is all around her…
What should have been a routine investigation for FBI profiler Evelyn Baine turns ominous when she's kidnapped by a dangerous cult of survivalists. As her worst nightmares become a reality, she begins to question what she's seeing. Because the longer she's inside their compound, the more she realizes this cult is not what it seems to be.
The next terrorist threat is right beside her…
As the FBI's Hostage Rescue Team closes in, Evelyn suspects she may have stumbled onto an emerging terrorist threat – and a leader who has a score to settle with the FBI. If Hostage Rescue breaches the compound, Evelyn's dead for sure. If they don't, the cult may unleash a surprise attack that could leave the whole country shattered.
About AVENGED
(a free short story in The Profiler series releasing a chapter a day)
Love and vengeance
FBI profiler Evelyn Baine and fellow agent Kyle McKenzie are—secretly—on vacation together, visiting an island off the coast of Georgia. Evelyn has recently solved a notorious cold case, so she considers their holiday a reward of sorts. More than that, it's a cautious acknowledgment of her growing feelings for Kyle.
One day a body washes up on the beach, a body that's been disfigured. The killer has carved the word "pervert" into the victim's stomach. A second murder, with the victim labeled a "killer" appears soon after. The police don't agree when Evelyn tells them the murders look like the work of a vigilante trying to avenge…something.
Evelyn and Kyle find their own lives at risk as they move closer to the truth.
About the Author:
Critically acclaimed author ELIZABETH HEITER likes her suspense to feature strong heroines, chilling villains, psychological twists, and a little bit (or a lot!) of romance. Her research has taken her into the minds of serial killers, through murder investigations, and onto the FBI Academy's shooting range.
Elizabeth graduated from the University of Michigan with a degree in English Literature. She's a member of International Thriller Writers, Mystery Writers of America and Romance Writers of America. She writes a psychological suspense series called The Profiler series and a romantic suspense series called The Lawmen series. Fresh Fiction called the heroine of her Profiler series "one of the most amazing characters created in print" and RT Book Reviews nominated one of her Lawmen books as Best Intrigue of 2015. To find out more about her books, visit www.elizabethheiter.com or join her on Facebook at www.facebook.com/Elizabeth.Heiter.author or follow her on Twitter at @ElizabethHeiter.