From New York Times and USA TODAY bestselling author Kristan Higgins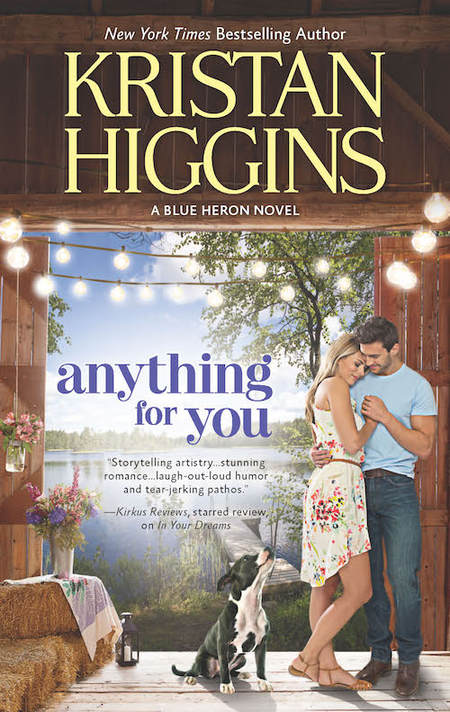 Before you get down on bended knee
you should be pretty darn sure the answer will be yes. For ten years, Connor O'Rourke has been waiting for Jessica Dunn to take their on-again, off-again relationship public, and he thinks the time has come. His restaurant is thriving, she's got her dream job at Blue Heron Vineyard—it's the perfect time to get married.
When he pops the question, however, her answer is a fond but firm no. If it ain't broke, why fix it? Jess has her hands full with her younger brother, who's now living with her full-time, and a great career after years of waitressing. What she and Connor have is perfect: friends with an excellent benefits package. Besides, with her difficult past (and reputation), she's positive married life isn't for her.
But this time, Connor says it's all or nothing. If she doesn't want to marry him, he'll find someone who does. Easier said than done, given that he's never loved anyone but her. And maybe Jessica isn't quite as sure as she thinks
"A heroine who believes she can only count on herself, a persistent, protective hero who won't give up, and a wonderful cavalcade of Blue Heron folk lead to an irresistible, often touching story that is tender, sexy, and hilarious as only Higgins can write it." —Starred Review, Library Journal
Best Books of 2015, Kirkus
"Higgins proves she only gets better with each book." The New York Times Book Review
"Kristan Higgins is in a league of her own." —Tasty Reads
"My favorite author." —Kristan's husband
HQN Books, December 29
Help support a great cause! Part of the proceeds from the first week sales will go to Fisher House Foundation. Fisher Houses provide military families housing close to a loved one during hospitalization for an illness, disease or injury. So don't wait! Get your book today! (Photo © Craig Orsini, used with permission)
Visit Kristan at www.kristanhiggins.com or www.Facebook.com/KristanHigginsBooks
And now, an excerpt, in which our hero woos his lady love back into dating him by using food. What woman could resist?
By the time the six lasagnas were done, it was 1 a.m. He loaded them into his truck, drove to the soup kitchen—they'd given him a key when he opened O'Rourke's, and he dropped by about once a week with this kind of take—And left five of the lasagnas in the fridge with a note on heating. Then he got back in his truck and drove to Jessica's.

She answered faster than he would've expected. "Connor," she said. "Is everything okay?"

"I brought you a lasagna."

She frowned. "Uh…thanks. Why?"

"I'm mad at you."

"No, I get that. The lasagna tells the whole story."

Okay, sure, it was dumb. "My girlfriend didn't like the way I didn't look at you. So she broke up with me."

"And clearly a lasagna…does what, exactly?" There was a hint of a smile at the corner of her mouth, and Connor felt an answering tug in his chest.

"I don't know."

Her smile grew. "Would you like to come in?"

He followed her inside the house. The kitchen, though plain, was immaculate. On the table were an open textbook and a notebook. She closed both and put them on the chair. Message received: whatever I'm studying is none of your business.

He put the pan on the stovetop, turned and leaned against the counter.

Jessica Dunn looked beautiful in pajamas, even if the bottoms were green plaid and the top was a T-shirt that showed a cat wrapped in a tortilla. Purritto, it said. Funny.

"So why are you here, Connor?" she asked.

"My now ex-girlfriend pointed out that I'm still hung up on you."

"Did she now." Jess swallowed and looked at the table. Straightened the napkin holder.

And that, friends, made Connor very happy. She was nervous. For some reason, he knew that was a good thing.

"You ruined a perfectly good relationship." He bit down on a smile.

"By existing?"

"Yep." He let his gaze wander over her. Her hair was down, and he loved her hair, the cool, smooth texture of it, the graceful swing. Her cheeks were flushed, and she was now fiddling with the drawstring of her pajamas. Double-knotting it, in fact.

Connor had always been good with knots.

"Do you want me to stop coming to O'Rourke's?" she asked.

"No."

"Then what do you want?"

"You."

She went to put her hands in her pockets, then discovered she didn't have any. Folded her arms, instead. "So you're bribing me with lasagna?"

"Yes. Is it working?"

She shrugged. "A little. It smells fantastic."

"Jess," he said quietly, "you didn't like seeing me with someone else. So be with me."

She huffed. "I have no problem with you being with someone else, Connor. If you like her, that's great. I'm glad."

"You almost sound sincere."

"I am," she said.

"Liar."

The kitchen was quiet except for the hum of the refrigerator. He kept looking at her. The pulse in her neck was visible. And fast.

"She was right, you know," he murmured. "I am still hung up on you."

"Sorry to hear it."

"No, you're not." He went toward her and took each of her hands in his. She swallowed again, her cheeks pinkening. "Jessica," he whispered, leaning down to kiss her cheek. She shivered. Didn't pull away. "Be my girlfriend." Kissed her jaw, then just below her ear. "You have to. I made you lasagna." Her skin smelled like lemons and vanilla.

"I can't…you shouldn't…"

"Lasagna, Jess. All those layers. Homemade pasta."

She laughed a little. "Connor, I'm sorry. I wish I could…I wish you were still with her. Your girlfriend."

"I don't."

The comment seemed to hit her where she lived, because her beautiful green eyes softened, and her gaze fell to his mouth.

Connor didn't wait for more of an invitation. He kissed her, slid his arms around her to keep her close, and there it was again, that locked-in perfection, like they were made to kiss each other…and only each other. Her mouth was soft and giving, and a small sigh came from her and he couldn't wait any longer, because for crying out loud, they hadn't been together for twenty-seven months, and he missed her, he ached for her, and no one else would do.