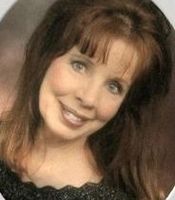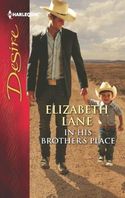 Last year, after writing thirty-four historical novels and novellas, I finished my first book for Harlequin Desire.  I was sweating bullets all the way.  The book, IN HIS BROTHER'S PLACE is a brand new release this month.  And my respect for authors who write contemporaries has grown by giant leaps.
Let me explain.  Yes, historicals take a lot of research.  The Westerns I write are easier than most because the Wild West is bred into my bones.  The Mountain West is home to me.  I grew up on my grandparents' stories of what it was like to be a pioneer, a settler, a cowboy.  I wouldn't think of trying, say, a Regency, which involves a feel for England and enough historic minutiae to fill a shelf full of encyclopedias.  But the West just flows for me.  And when I get to a blank spot in my story, I can always throw in a gunfight, a prairie fire, an Indian attack or a rhapsodic description of a desert sunrise.
A series contemporary, on the other hand…What can I say?  A story for a line like Harlequin Desire is bare bones plot—a hero, a heroine, a compelling situation and some (lots of) sizzle.  There may be a child, as there is in my story.  But there's no arch-villain, no historic setting, no grave physical danger, no spilled blood, chases, races, or cliffhangers to keep a reader turning those pages.  Just the intense, evolving relationship between a man and a woman.  What a challenge.
But then, as I keep reminding myself, isn't that what romance is all about?
IN HIS BROTHER'S PLACE, the Desire I finished in March, is a contemporary Western.  Set in New Mexico, its hero, Jordan Cooper, is a rancher/ investment banker who discovers that his late brother's fiancée has a son—a son she's kept hidden from the wealthy family who despised her.
My next Desire, THE SANTANA HEIR, will be out this July.  Technically it's not a western, but it does have a ranch and a heroine who's terrified of horses after a tragic accident robbed her of the ability to bear children.  I confess to loving these shorter contemporary romances, where the focus is on the emotional conflict.   Writing them has helped me discover ways to intensify the conflict in my historicals.
But I have no plans to hang up my boots and saddle.  There are two more historical westerns in the pipeline.  The first, THE BALLAD OF EMMA O'TOOLE (a title I'll fight to keep) is finished and awaiting a release date.  The second, THE COUNTESS AND THE COWBOY, is on hold but will be finished later this year.  For that one, I came up with the title first, then had to think of a story to go with it.  Has anybody else out there done that?
How about you?  Which kind of stories do you enjoy most, contemporary or historical?  Those of you who write, which do you most enjoy writing?  Why?
I'll be giving away a copy of IN HIS BROTHER'S PLACE to one reader who comments today.  Have a Happy New Year.
To comment on Elizabeth Lane's blog please click here.