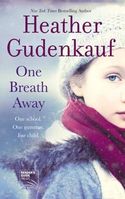 July 2012
On Sale: June 26, 2012
Featuring:
Will Thwaite; Evelyn Oliver; Meg Barrett
400 pages
ISBN: 0778313654
EAN: 9780778313656
Kindle:
B0080GUZDS
Paperback / e-Book
$15.99
Add to Wish List
Romance Suspense

Top Pick by Fresh Fiction Reviewers
One Breath Away
by Heather Gudenkauf
On a bitter March day, as a sudden snowstorm envelops the small town of Broken Branch, Iowa, an unknown man with a gun enters the town's only school and takes a classroom of children hostage. As awareness of the situation spreads, the panicked community is ready to do anything to protect their children, but can only watch and wait.
As a teacher with a long career behind her, Evelyn Oliver is ready to enjoy retirement with her loving husband. But now, faced with a crazy man armed with a gun, terrorizing her classroom, she'd rather die than fail to protect any of her students. But why is he doing this? Evelyn's been scouring her mind but doesn't recognize the intruder. Maybe one of the students is the key?
Holly Thwaite left Broken Branch and her family behind without a word eighteen years ago, vowing never to return. But after a debilitating accident leaves her recovering in a hospital in Arizona, she's forced to send her children to her hometown to be looked after by their grandfather, the man she never wanted them to meet. Will Thwaite never understood why his estranged daughter, Holly, ran away all those years ago. But now that her children are in his care, he refuses to fail his daughter again. One way or another, Will is going to get his grandkids, P.J. and Augie, out of that school safely even if he has to go in and get them himself. What Will doesn't know is that thirteen-year-old Augie is just as determined to rescue her little brother from the killer and help her classmates, even if it means putting herself in the crosshairs of the gunman.
Police officer Meg Barrett wants to know who the intruder is and why he's doing this. Whoever it is, there's no excuse for this. Meg should know. She's had plenty of hardships herself. But with innocent lives at stake, Meg is prepared to risk her own life to save these hostages, although it means disobeying orders and taking on the gunman face-to-face.
As the standoff progresses and the snowstorm rages outside, anxiety and frustration start to build to dangerous levels. But everyone knows how precarious the situation is. One wrong move, even a breath, could have the most devastating of consequences.

A school under siege – a community's response

Exciting and suspenseful tale of a School Full of Children Being Held Hostage
Excerpt
Holly
I'm in that lovely space between consciousness and sleep. I feel no pain thanks to the morphine pump and I can almost believe that the muscles, tendons and skin of my left arm have knitted themselves back together, leaving my skin smooth and pale. My curly brown hair once again falls softly down my back, my favorite earrings dangle from my ears and I can lift both sides of my mouth in a wide smile without much pain at the thought of my children. Yes, drugs are a wonderful thing. But the problem is that while the carefully prescribed and doled-out narcotics by the nurses wonderfully dull the edges of this nightmare, I know that soon enough this woozy, pleasant feeling will fall away and all that I will be left with is pain and the knowledge that Augie and Read More… Previous Picks