1–What's the name of your latest release?
2–What is it about?
Two sisters who own a dog rescue, a war veteran who owns a gym, and a brood of loveable dogs–all broken and in need of saving—whose paths twine in their individual searches for growth, healing, and, ultimately, love.
3–What word best describes your heroine?
Unbreakable.
4–What makes your hero irresistible?
His vulnerability. He's a tough guy, but ultimately Rhett realizes his greatest strength is in his vulnerability–he has to have the courage to let someone in, to surrender a little bit, in order to fully heal and grow.
5–Who are the people your main characters turn to when they need help?
Sisters Constance and Sunny have always relied on each other, and in this book their bond only grows. They also rely on long-time, childhood friend, Pete, who rehabilitates some of the rescue dogs into service dogs for veterans. Rhett, the hero, relies on his gym. Not necessarily the people, as he's still learning to open himself up to others, but the gym itself, the outlet it provides him to channel his energy and passion into something that betters people's lives.
6–What do you love about the setting of your book?
Virginia is so versatile, so diverse, and for that reason, makes for a great setting. A lot of people think of Virginia as "the south" but northern Virginia is right next to Washington, D.C. so it's really its own animal. Within a space of a few hours drive you can either be in the south or you can be in "the D.C. Metro Area" and I love living in such a diverse area. I also have a special place in my heart for The Outer Banks, North Carolina, which has a few brief scenes in the book. My family and I have vacationed there every year for over a decade.
7–Are you a plotter (follow an outline) or a pantster (write by the seat of your pants)?
Pantster. Any outlining I do is Captain Barbossa style: "They're more like guidelines than rules."
8–What is an ideal writing day for you?
Get a good chunk written on a quiet Sunday morning over coffee, then go for a walk and listen to music to work out the kinks of the next scene, followed by another chunk of writing later in the day.
9–Do you listen to music while you write, need total silence, or do you have the TV on?
Music is an integral part of my creative process. You'll find music references in all my works and I'll spend a lot of time listening to music while I walk, write in my head, revise a scene mentally or figure out a writing block. Each book often has a playlist. However, I don't listen to music while I am actually writing. Music could be on, as could the TV or the vacuum cleaner, etc., but I won't actually hear any of those things while I'm writing because I'm too absorbed. The music informs the art before, after, all inside and around, but not during the actual words-to-page part of the process.
10– How do you approach research?
I take my research pretty seriously. Sometimes I get too hung up on it and find it getting in the way of me actually writing the story. I always want my works to be really authentic so if I'm not comfortable about a particular subject I will research it to death. I'm not going to always get it perfect, but I'm going to do my best.
11–What is your publishing journey story?
I'm grateful for my actual marathon running experience because it's helped me get through the long process that publishing can be. I think that my agent, Sara Megibow, and I were ahead of our time when we first partnered up. My stories have always had strong heroines, and while this is popular now, that hasn't always been the case. My stories are also on the quirky side and straddle the women's fiction/romance line, which can make a novel harder to place. But persistence pays off, and like an actual marathon, every little step I've taken has gotten me to the finish line. It can be brutal, but so are most things worth doing.
12–Do you have critique partners/writing groups you want to give a shout-out to?
I never had much luck with writing groups but my one writing buddy, Chris Boswell, who I met at the Pikes Peak Writing Conference ages ago, has always been in my corner. We read each other's stuff, pull no punches, and root for each other. What I think is great is that we don't write similar stuff –he writes Clive Cussler type stories and my work couldn't be any further from that. Yet, we work well together despite our diversity–probably because of it.
13–What're the most frustrating things about being an author?
Only that I have a hard time sitting still, so to balance out all the time spent in front of the computer I double as a fitness coach. I feel like coaching and writing are my Yin and Yang, keeping me balanced. Other than that, all the little parts of this process are everything I ever wanted, so I have no complaints.
14–What's your favorite scent?
Pine sap, campfire smoke, chocolate chip cookies, onions frying in butter, rose bubble bath, and puppy breath.
15–What movie will you watch no matter what if it's on TV?
Terminator and The Goonies.
16–Do you like breakfast, lunch, or dinner best?
I'm with the hobbits. Second breakfast.
17–What's one thing you wish you knew more about?
Being a massage therapist and athletic coach, I always want to know more about the human body, kinesiology, muscles, movement, neurology.
18–What's the silliest thing you've recently done?
Had an impromptu dance-off with my daughter when we were alone at the gym one day. She's been in dance classes all her life. (Yeah, she won).
19–What can readers expect from you next?
RESCUE YOU is the first in a series of books called Dogwood County! I'm so excited about this. Next up is FOREVER HOME, a story about a retired Marine who's opening up the motorcycle shop of her dreams, grieving the loss of her father, and catching the eye of both a lost Pit Bull and local Detective Sean Callahan.
20–How can readers reach you?
On my website www.elysiawhisler.com you'll find links to all my social media, news and events, and a way to sign up for my newsletter, as well as contacts for my literary agency and publicity.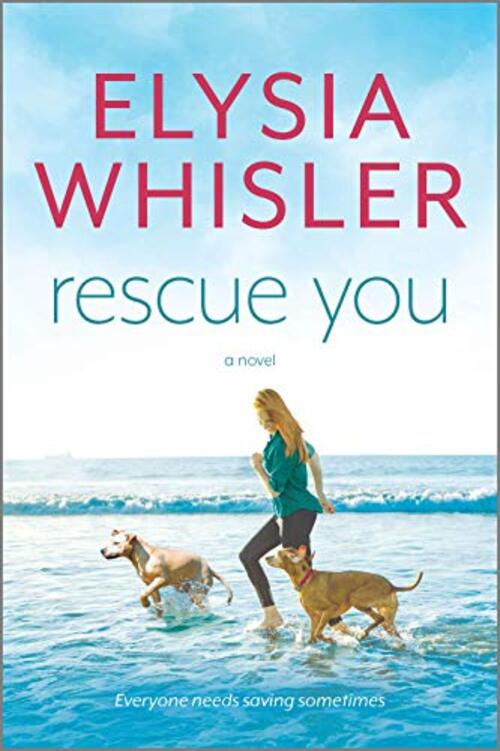 She needs a fresh start. He's got scars that haven't healed. With the help of some rescue dogs, they'll discover that everyone deserves a chance at happiness.
After a year of heartbreak and loss, the only thing keeping Constance afloat is the dog rescue she works at with her sister, Sunny. Desperate for a change, Constance impulsively joins a new gym, even though it seems impossibly hard, and despite the gym's prickly owner.
Rhett Santos keeps his gym as a refuge for his former-military brothers and to sweat out his own issues. He's ready to let the funny redhead join, but unprepared for the way she wiggles past his hard-won defenses.
When their dog rescue is threatened, the sisters fight to protect it. And they need all the help they can get. As Rhett and Constance slowly open up to each other, they'll find that no one is past rescuing; what they need is the right person—or dog—to save them.
Women's Fiction Contemporary | Fiction [MIRA, On Sale: October 27, 2020, Trade Size / e-Book, ISBN: 9780778310082 / eISBN: 9781488062476]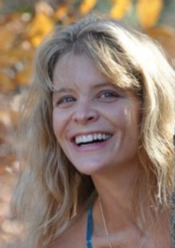 Elysia Whisler was raised in Texas, Italy, Alaska, Mississippi, Nebraska, Hawai'i, and Virginia, in true military fashion. Her nomadic life has made storytelling a compulsion from a young age. Her work as a massage therapist, with CAUSE-USA, and as a CrossFit Level 2 Trainer and USAW Level 2 trainer, lends authenticity and heart to her stories.
Elysia is dedicated to portraying strong women, both in life and in her works. She lives in Virginia with her family, including her large brood of cat and dog rescues, who vastly outnumber the humans.