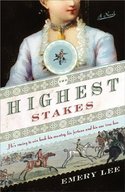 What I love about historical fiction is the license to recreate a period in the past while weaving into it assorted threads of fact and fiction. A perfect example of this is the opening scene of THE HIGHEST STAKES.
I had selected the early years of Thoroughbred horse racing in Georgian England as my setting, an era of great political upheaval leading up to a series of wars between England and France, which would dominate the next half of the 18th century. As my research began, I was thrilled to uncover a myriad of fascinating historical facts that worked themselves quite seamlessly into the plot. One of these was a single blurb in a history book about an emissary from France who met with Jacobite intriguers at the Lichfield races. Now add that the emissary was an unnamed Equerry (officer responsible for royal horses) of Louis XV, and that the Godolphin Barb (one of the three stallions the founders of the modern Thoroughbred horse racing bloodstock) was cast off from the stables of Versailles before coming to England.
The Lichfield races, held annually in September, transformed the Whittington Heath, a three-hundred-acre sheep pasture, into the premiere event for all of Staffordshire. Lords and gentlemen had arrived from the North of England, Wales, and even the Scottish highlands, but as unusual as this was, never had this innocuous little village ever attracted a foreign dignitary.

By far, the most distinguished patron of the races this year was the elegant and illustrious Grand Ecuyer de France. Rumored to have travelled all the way from Versailles to procure a number of English running-bloods for the Royal stud, Monsieur Le Grand's visit to Baron John Leveson-Gower had propitiously coincided with the Lichfield races.

With the final preparations for the race in progress, Lord Gower and his eminent guest promenaded the grounds, surveying the field and assessing prospective stock to complement the Royal stud of France.

"I have heard for a number of years, Lord Gower, that the finest racing flesh resides across the Channel in England. I was of course loath to believe such a thing, but most curiously, after seeing so many specimens of excellence, I must confess that this might be so." He paused in his perambulations to admire a particularly sleek black stallion in one of the myriad paddocks.

"Do you know, what is the breeding of this horse, Lord Gower?"

"Hastings's Hawke? He is indeed a fine specimen! I believe he is by Francis Lord Godolphin's Barb stallion, but I shall inquire further, if you so desire."

"The Godolphin again! He shall forever plague me, this horse! It is said that one of the finest producers of racing champions in England was first cast-off by Versailles. A very foolish move by the Grand Ecuyer, was it not?"

"Am I to assume that you refer to Lord Godolphin's stallion?"

"Indeed! One and the same, but the name was not so. In France, the stallion was called by El Sham. You do not know the history of this horse, Lord Gower?

"Only these past years while he stands in Cambridgeshire, Monsieur Le Grand."       

"Then I shall recount to you this story, bien sur?"

"Indeed, I am most intrigued."

"The stallion, El Sham, was presented to His Majesty as one of eight horses—chevales pur sang arabes—from the Sultan Muley Abdulah of Moroc. The grand riding master at Versailles, Monsieur de La Gueriniere, the man whom I appoint, finds this stallion wanting, you see. As he is small in stature and not of the form preferred for the dressage, he is cast out from the stud Royale. This same horse was then procured by your Englishman, Monsieur Coke, who brings him to England, where he soon becomes the sire of champions! So you see that I, en effet, am responsible indirectly for this horse leaving France, and now I come to England to find such a one to take back! C'est l'ironie magnifique, n'est ce pas?" He recounted his tale with surprising good humor.

"Indeed, a most amazing irony! But in all truth, this stallion's value was little realized at the first. When he left our poor departed Coke's hands for Lord Godolphin's stud, he was intended as a teasing stallion, to prepare the mares for the services of his lordship's Hobgoblin. Apparently, he fought Hobgoblin for Roxana's honors, and the unintended byproduct, Lath, was a most formidable opponent on the turf. The fleetest since Flying Childers, some say, and now this former teasing stallion is making a greater name as a sire than Hobgoblin.

"Indeed, it may be of further interest that a son of his, called by Cade, is to run today. He is full brother to Lath and already proving as remarkable a runner. His first year at Newmarket, he won both heats of the King's Plate. His next year, he ran second only to Sedbury, a great-grandson of Colonel Byerley's Turk, another long-proven champion sire. I daresay we might yet see a match race betwixt the pair, but I should be in a veritable quandary where to lay my money on that one!"

"How I should like to see such a race!" remarked Monsieur Le Grand.

"If one offers a large enough purse, most anything might be arranged for the entertainment of Le Grand Ecuyer de France."

© Emery Lee, Sourcebooks Landmark, 2010
These little-known historical tidbits were almost too good to be true, and allowed me to meld the Jacobite plot with the true history of the Godolphin stallion and his progeny, while adding only a slight fictional twist. I hope you'll take some time to see what else I was able to discover, and how these interesting facts found their way into my book!
THE HIGHEST STAKES BY EMERY LEE—IN STORES APRIL 2010
All thoroughbred horses in the world to this very day can trace their blood back to three specific Arabian stallions imported to England in the early part of the 18th century. Against this backdrop comes a painstakingly researched novel with breathtaking scenes of real races, real horses, glimpses of the men who cared for them, and the tensions of those who owned and controlled them.
In 18th century England and Colonial Virginia, when high-spirited stallions filled the stables of the lords of the land and fortunes were won and lost on the outcome of a race, a love story unfolds between a young woman for whom her uncle's horses are her only friends and the young man who teaches her everything about their care and racing. When she's forced into marriage, his only hope of winning her back is to race his horse to reclaim all that was stolen from him—his land, his dignity, and his love.
About the Author
Emery Lee is a life-long equestrienne, a history buff, and a born romantic. Combine the three and you have the essence of her debut novel: a tale of love, war, politics, and horseracing. A member of Romance Writers of America, she lives with her husband, sons, and two horses in upstate South Carolina. For more information, please visit http://authoremerylee.com/.
Comment to win a copy of THE HIGHEST STAKES, two winners!