Emma Castle's latest, MIDNIGHT WITH THE DEVIL, reimagines the Devil as a tortured — and hot — anti-hero looking for the right woman to soften him right up. Yes, even the Devil can thaw for that special someone. Castle stopped by to chat with Miranda Owen about the novel, how she crafted her perfect devilish lead, and what she's working on next.
Miranda Owen: MIDNIGHT WITH THE DEVIL was my introduction to your books. For other readers like me, who might be reading you for the first time, can you tell us a little about yourself?
Emma Castle: I'm an Oklahoma girl who loves to write passionate romances that challenge a reader's preconceived notions about the world. I got bit by the travel bug when I was young, and I've traveled to England, Spain, Scotland, France, Italy, Mexico, Jamaica, Cayman Islands and China. I love hanging out with my two dogs, Evie and Fritz when I'm not writing, and I love exercising, reading and going to the movies to relax.
Miranda Owen: MIDNIGHT WITH THE DEVIL is a sort of supernatural or "otherworldly" romance. Is that the kind of story you enjoy telling the most? What was your favorite part of MIDNIGHT WITH THE DEVIL to write? The most challenging?
Emma Castle: I've always been drawn to otherworldly stories. I like writing a story that feels normal except for a teasing little hint of gothic atmosphere or perhaps a supernatural element. My favorite part of the DEVIL book was writing the ending. I won't give away any spoilers, but it was by far one of the most powerful scenes I've ever written. The most challenging part was probably where the devil starts to fall in love and turn sweeter, but I really enjoyed those scenes immensely.
Miranda Owen: Lucien, in MIDNIGHT WITH THE DEVIL, is a sexy bad boy hero. My favorite heroes are generally the sweet and slightly geeky Clark Kent types, but I indulge and admit to enjoying the occasional bad boy hero now and then. I think sometimes that authors struggle to strike the right balance with these types of characters between wild and wonderful and evil and icky, while not losing the character's most intriguing qualities when "redeeming" the character. I love Lucien because he wavers between being a villain and anti-hero, while keeping his sinful and saucy charm, even as he undergoes a bit of a transformation throughout the book. What are your thoughts on bad boy heroes in general and "transformation/redemption" stories specifically?
Emma Castle: I live for bad boys. I've only successfully wrote one or two "good guy" romances. I think it's incredibly important to find a way to strike a balance between hot alpha male and "asshole". The trick for me is that my bad boys are never condescending to women. They can be occasionally dirty-mouthed or say things to rile the heroine, but they never treat her like trash or less than as a human. My bad boys always get tamed in the end in just the right way, they stay wicked and often dirty in bed, but they turn reverent toward their heroines and worship them by the end. I think that's the proper balance. They never try to hurt their women emotionally or physical (aside from a few playful spanks in bed), and they always focus on the woman's pleasure in relation to their own. If you have a hero like that, even an anti-hero like Lucien, you can't help but love him.
Miranda Owen: Diana Kingston is no paragon of virtue, but she is a "good" and self-sacrificing heroine. My first inclination is to pair up a slightly wicked hero with a heroine who could outdo him when it comes to wickedness, but Lucien and Diana have great chemistry. Do you prefer writing a hero and heroine with that kind of dynamic – opposites attracting? Have you, or would you consider writing a story with a slightly wicked heroine? What kind of hero would you want to pair her up with?
Emma Castle: I tend to write heroines who are more sweet-natured but find they have a wicked side to them like Diana does. I think it's because I personally am a very passionate person, but I've not had a ton of chances to express that passion, so I feel I identify most with heroines who don't start out wicked. However, I have written a few romances under another pen name where I have heroines who are a little more adventurous and they draw the hero out, but it's not so much of an "opposites attract" but rather a finding common ground scenario. I would love in the future to write a more wicked heroine I just haven't had a story yet that speaks to me with a heroine like that.
Miranda Owen: Who are some of your favorite romance novel heroes and heroines – ones you've read, and out of any you've written? What do you love about them?
Emma Castle: I love stories like Lisa Kleypas' Devil in Winter where you have a guy who was almost a villain in a previous book, but he ends up turning into a reluctant hero in his own book. I love stories like that. I also love stories where a hero is humbled by circumstances and makes sacrifices in secret. I once wrote a book under my other pen name where my hero was a titled lord in a historical romance down on his luck and he accepts an arrangement to be "affianced" to a young lady in society who needs help escaping a bad man who wishes to entrap her in marriage. And my hero secretly truly wants to marry her, not because of the dowry she would bring, but because he genuinely likes her. He sells his grandfather's pocket watch with his family crest to buy her a ring and the heroine secretly witnesses him selling off one of his cherished possessions for her and she buys it back after he leaves the jeweler. At the end of the book, she gives it back to him as a Christmas present after they've been married and fallen in love and it means so much more then that she returns it to him. I think I love that most about romance novels, the equal give and take of each side as they fall in love and care for each other. That makes the story powerful and it lingers in my mind long after I've closed the book.
Miranda Owen: I read an interview with a romance author once in which she said that authors don't always write the same types of stories they enjoy reading. What do you enjoy reading? What are some of your favorite books and authors?
Emma Castle: I love reading romance, but I also love true crime non-fiction books because I have a bit of nerdy desire to solve cold cases. I would love to write a book like that someday but my natural inclination to embellish details would be a problem for non-fiction. I also love to read the more story light, romance heavy stories that are basically as addictive as crack LOL. My favorite authors are (mind you this is heavily limited): Johanna Lindsey, Lynsay Sands, Alyssa Day, Christina Dodd, Lisa Kleypas, and Laurann Dohner.
Miranda Owen: What are you currently working on? Is there any type of romance sub-genre or genre, that you haven't written that you would like to explore in the future?
Emma Castle: My next Emma Castle book will be a book set slightly in the near future where a contagion decimates the world's population. A woman struggling to survive is rescued by a stranger and she starts to wonder if they might fall in love but then she questions whether love can group from necessity or from true passion if they might be the last man and woman on earth. It's a story of survival, of loneliness, of animal passion and finally a story of hope. It's called THE WILDERNESS WITHIN and I hope to release it sometime next year. I want to explore paranormal stories, contemporary romances many other types of sub-genres in the future! I follow the power of a story, and I don't let genres limit me.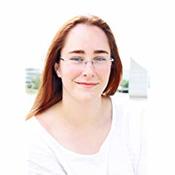 Emma Castle has always loved reading but didn't know she loved romance until she was enduring the trials of law school. She discovered the dark and sexy world of romance novels and since then has never looked back! She loves writing about sexy, alpha male heroes who know just how to seduce women even if they are a bit naughty about it. When Emma's not writing, she may be obsessing over her favorite show Supernatural where she's a total Team Dean Winchester kind of girl! Emma's first book is Midnight With the Devil and released in 2018.