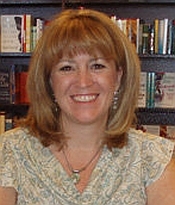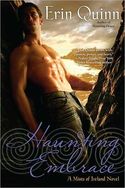 He's the gorgeous man on the cover of HAUNTING EMBRACE.  He's also the evil druid Brandubh (pronounced Brawn-doov) who's been trapped inside the Book of Fennore for eons.  On the surface, he's far from hero material.  But deep down?  A man just waiting to become a one.
I won't lie; it was a challenge getting him there.  Áedán fought me tooth and nail, insisting he was too dark, too far from humanity to save.  I disagreed.  I saw a man who'd been betrayed, used and abused but who'd never given up.
I fell in love with Áedán while I was writing HAUNTING DESIRE, Book #3 in the Mists of Ireland series.  I admit, I fall in love with all of my heroes.  How could I not?  I create them.  But as they each emerge with their own special qualities and quirks, I begin to see what really makes them the men of legends.  Áedán tries to pretend he has no emotions, but deep down he feels as strongly as any other man and he wants…oh how he wants a life again.  His rough exterior may fool some, but not those who know him.
Or people like me who've already fallen in love with him.
I knew that what Áedán needed was the right woman–(really, isn't it what every hero needs?).  In Áedán's case, she'd been there waiting for him all along.  Within Meaghan Ballagh runs the blood of an ancient sorceress–the very same sorceress who loved Áedán millennia ago and then betrayed him.  Although Meaghan doesn't recognize the soul lurking inside her, Áedán senses her presence and fears her…almost as much as he desires her.  Meaghan makes his blood run hot and she triggers every emotion he thought never to feel again.
Meaghan doesn't remember the history Áedán claims lies between them but she knows she must convince Áedán that she's more than just the reincarnated lover he's vowed for centuries to punish.  She is a modern woman with a mind of her own and she sees beneath his skin, into his heart.  Her touch reminds Áedán of his lost humanity and brings him to the brink of accepting who he is and who he wants to be.
But more is at work than the passion that burns between them.  Áedán and Meaghan have time-traveled to the past, to the era of Meaghan's grandmother, and now menace looms in the future.  Even though Áedán escaped the Book of Fennore, he knows he's not free of it forever.  A great and terrible power still lurks within it–a power that needs a vessel.  It wants to imprison Áedán again and it doesn't care who it hurts to get him.
One of my favorite scenes in HAUNTING EMBRACE comes when Áedán finally surrenders to the passion he feels for Meaghan and acknowledges who she is and what she means to him….
Meaghan's eyes widened as Áedán lowered his mouth to hers, but she didn't turn away, nor did she push him away. He felt the pending rush of fate slam into him as his lips touched hers. Thoughts of the stolen moments on the cliffs that afternoon had all but consumed him. He'd craved the sensation of her arms clinging tight, the softness of her breasts crushed against the wall of his chest, her hips pressed to his. . . .

Now he felt like an anchored ship whipped by a storm that refused to let it idle securely at bay. He ripped free in a powerful surge, back­ing her to the wall, needing that solid surface to keep from hurling himself out to sea.

The eye of the storm was within him, the fury of it all around. It uprooted his convictions, his resentments, his foundation. For a thousand years, he'd loved Elan, despite her betrayal, despite her condemnation. For a thousand years, he'd hated her, bitterly tar­nished every memory, purposefully corroded every recollection until what he felt was a mordant collage of distorted untruths.

Meaghan made a soft sound that was so heartbreakingly familiar, so longed for, so desired that it made his knees buckle. She kissed him back with desperation, begging him with her lips to make Mickey and all the terror he represented go away. Áedán tried, even though he feared it might be futile.

He realized then that she might have once been the woman of his past, the woman who had destroyed him, but she was something else now. She was more . . . and less. Better . . . and worse. Different. Excitingly fresh, startlingly distinctive. She might flash glimpses of Elan's eyes, but her scent, her lips . . . her kiss. Everything about Meaghan was unique.
The Mists of Ireland
I hope you'll embrace Áedán and Meaghan and enjoy the thrill of traveling through time with them.  I'm giving away a copy of HAUNTING WARRIOR to one lucky commenter so talk to me.  Tell me what you love about dark, tortured heroes or modern day heroines who take a tumble through time.
HAUNTING EMBRACE, Book 4 in the Mists of Ireland series–On sale now!
Watch the trailer:  http://youtu.be/P0SilhfbJmk
Erin Quinn
www.erinquinnbooks.com
Follow Erin on Facebook * Twitter * Blogger
Amazon * Barnes & Noble * Books-a-Million * Indie Bound
To comment on Erin Quinn's blog please click here.