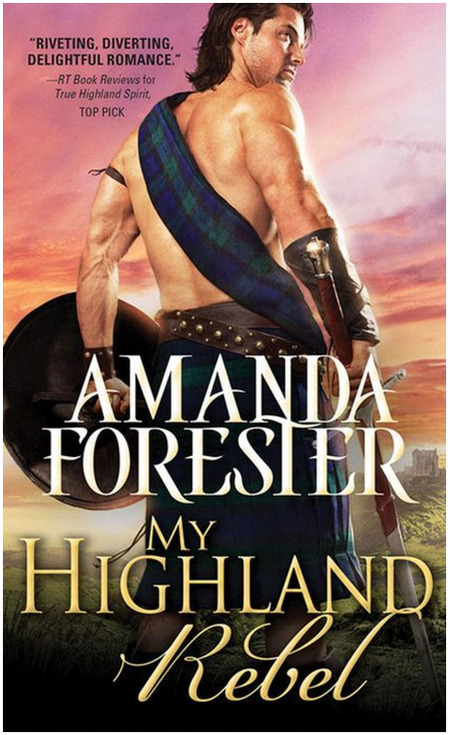 Second in a passionate, fast-paced Scottish Highlander romance series from critically acclaimed author Amanda Forester
A conquering hero
Cormac Maclean would rather read than rampage, but his fearsome warlord father demands that he prove himself in war. Cormac chooses what he thinks is an easy target, only to encounter a fiery Highland lass leading a doomed rebellion and swearing revenge on him.
Meets an unconquerable heroine
Jyne Cambell is not about to give up her castle without a fight, even though her forces are far outnumbered. She's proud, hot-blooded and hot-tempered, and Cormac falls for her hard.
It's going to take all of Cormac's ingenuity to get Jyne to surrender gracefully-both to his sword and to his heart…
Romance Historical [Sourcebooks Casablanca, On Sale: January 1, 2017, Paperback / e-Book, ISBN: 9781492605461 / eISBN: 9781492605478]
Jyne walked up to him and put a hand on his sleeve. Cormac stared at her hand, clean and white compared with his dirty tunic, but did not speak. This close, she could see he was breathing hard. She moved her hand to his chest, placing it over his heart. His breath caught, and he looked down on her with dark eyes burning with intensity. The air crackled between them.

"I ken ye to be a good man."

Cormac shook his head slightly.

"Ye have a good heart."

Core's face hardened, as if her words hurt him. "Nay, ye dinna ken who I am."

"It doesna matter—"

"It always matters."

This man was Jyne's only potential ally. She was not sure who he was, but she knew he had helped her before, and she needed to convince him to help her again. "It does not matter to me now. Please, please will ye help us?"

A resigned sigh escaped his lips. "Aye." She was about to thank him, but with a twinkle of mischief in his eyes, he continued before she could speak. "For a price."

It was her turn to frown. She dropped her hand from his chest. Maybe she had been wrong about him. "A price? My brothers can pay ye—"

"Nay, yer brothers have naught that I want. Ye need to pay me."

"I have nothing of value—"

"A kiss," he blurted out the words, his eyes wide as if he was surprised he had said them. He schooled his features into nonchalance. "A kiss."

"Ye wish to kiss me?" Her pulse quickened.

His coloring heightened. Was the man…blushing?

"Ye want for me to kiss ye?" she asked.

He nodded his head vigorously.

He was right. This man was no hero. And yet…he was the only man available who could possibly help her. Besides, if he did help her, his life might be cut short. Should she not offer him one last request? She rationalized the shocking request, for she was not immune to the powerful draw between them.

She stepped even closer and noted the veins in his neck thrumming with a rapid pulse, much the same as her heartbeat. She put a hand on his shoulder and stood on tiptoe. She breathed in his masculine scent, and her heart raced even faster. Slowly she leaned toward him. He remained frozen, which gave her confidence.

She pressed her lips on his cheek, thrilling with the feel of his harsh stubble, lingering a moment before withdrawing once more. All the while he remained motionless.

"Now will ye help us?" Her voice was breathless.

He nodded. "I will help ye as I am able," he whispered.

"Thank ye." She stepped back, unsure what to do now. It seemed like they had been talking forever, but in truth it had been only a few minutes. The sounds of the war cries once again assailed her ears. They could not dawdle here.
Amanda Forester holds a PhD in clinical psychology and a Masters degree in theology. As a psychologist, she has worked as a clinical researcher and a university instructor (what they call you when they don't want to give you tenure). None of which has anything to do with writing romance novels. After trying for many years to stop the internal storylines floating around her head, she finally gave up and wrote one down. Now when she is caught daydreaming and talking to herself she can just say, "I'm plotting a scene for my next novel," which sounds so much better than, "I'm hallucinating and responding to internal stimuli."
Amanda lives in the Pacific Northwest with her officer and a gentleman husband and their two remarkably active, naturally brilliant children. They share their home with two fiendishly destructive cats and one lazy dog.