A deadly family curse looms as Nate and Haylee fall in love. Can they find a way to break the curse and have a happily ever after or is Haylee's fate to suffer the same curse as her ancestors?
SUNSTONE'S FIRE (Curse in Stone, book 1) by Lia Davis
*Please note this is an ARC copy of chapter one for the book is currently in edits. It may contain typos.*
Chapter One – part four

"Yeah." From his questioning tone, she could tell he believed in spirits or had had an experience with them before. "You're not scared, are you?"

He smiled at her teasing. "Nope. So, that was a ghost that made me crash my car?"

"Possibly." It was strange that the spirits would show themselves. What was so special about that night? Oh, yeah. It was the first night of the full moon. Meeting Nate's stare, she found herself captivated by his chocolate brown depths. For the first time in years, she felt at ease with another. "Would you like some tea?"

He nodded. "I'd love some."

Just as they turned to the kitchen, a knock sounded on the front door. Wondering who it could be at the late hour, she answered it. Nate was at her back, like he expected an attack or something. The sense of security warmed her. Remember the curse. I won't be responsible for his death.

When she opened the door, an older gentleman who looked to be in his late sixties, his hat and coat soaked from the rain, greeted her. "Hello, miss. Do you have any vacancies?"

"Yes, please come in." She moved to the side. "What are you doing out in this storm?"

"Oh, just passing through." He removed his wet, leather trench coat.

Haylee took it from him and opened the coat closet a few feet from the door. After grabbing a hanger, she hung the coat on the outside of the door to dry. Facing the stranger, she noted how his clothes weren't wet. Odd. Then again, it was a full moon, and she lived across from a haunted cemetery. So she let it go. "We were about to have some tea. Would you like to join us?"

"Tea sounds nice." The man moved toward the living room like he had a purpose.

She glanced at Nate, who shrugged. Nibbling on her bottom lip to keep a laugh from coming out, she followed the man. When he turned toward her room, she called out to him. "Um, sir, the kitchen is this way."

He faced her, then glanced back at her room, then to the kitchen on the opposite side of the great room. "Yes. The kitchen. For tea."

Beside her, Nate chuckled as the man strolled past. Haylee let out a sigh. It was going to be a long night.
In 2008, Lia Davis ventured into the world of writing and publishing and never looked back. She has published more than twenty books, including the bestselling A Tiger's Claim, book one in her fan favorite Ashwood Falls series. Her novels feature compassionate yet strong alpha heroes who know how to please their women and her leading ladies are each strong in their own way. No matter what obstacle she throws at them, they come out better in the end.
While writing was initially a way escape from real world drama, Lia now makes her living creating worlds filled with magic, mystery, romance, and adventure so that others can leave real life behind for a few hours at a time.
Lia's favorite things are spending time with family, traveling, reading, writing, chocolate, coffee, nature and hanging out with her kitties. She and her family live in Northeast Florida battling hurricanes and very humid summers, but it's her home and she loves it! Sign up for her newsletter, become a member of her fan club, and follow her on Twitter @NovelsByLia.
Connect with Lia: Website | Facebook | Twitter | Goodreads | Pinterest | Authorgraph | Amazon Author Page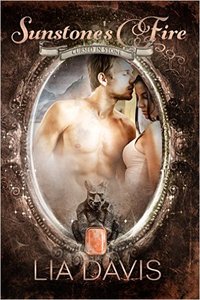 Aspiring author, Nate Wilson wants some space from his overbearing family and a job he doesn't like. A week on the Oregon coast sounds like paradise and just what he needs to get the creative juices flowing. Unfortunately, his plans are derailed when a storm moves in and a ghostly figure flashes in his headlights, sending him skidding off the road and into a tree. Lucky for him, he ends up in front of a Bed and Breakfast, and the beautiful owner may do more to spur his creativity than any beach could.
Hesitant witch and inn owner, Haylee Clark is cursed. Well, not her exactly—at least not yet—but all of the women in her family have suffered the same fate. They fell in love, only to have that passion turn sour and their husbands die tragically, leaving them brokenhearted. So far, Haylee has done well to avoid that destiny, but when the captivating Nate Wilson crashes into her life, he awakens something within her that she never thought to feel.
When the pair stumbles upon a hidden room where Haylee's grandmother used to conduct her rituals, they unknowingly unleash a dark entity hell-bent on destruction, and discover that a family heirloom is the source of the Clark family curse. Despite the spell, they can't deny their attraction, and give in to the magic between them. But the closer Haylee and Nate get, the more the curse tries to tear them apart. If they don't find a way to defeat the evil, they may lose more than their hearts.
Add SUNSTONE'S FIRE to your Goodreads TBR list!
Make sure to stop at each participating blog to read all of Chapter 1:
Part 1, March 21—I Smell Sheep
Part 2, March 22—Grave Tells
Part 3, March 23—Vampire Book Club
Part 4, March 24—Fresh Fiction
Part 5, March 25—Literary Escapism
a Rafflecopter giveaway