It's the final day of our Fall Recipe Potluck–we hope you have enjoyed it as much as we have, and you've learned about some great new books and collected all of these delicious recipes. Don't forget! You can check back on the week's posts for chances to win books by these awesome authors. Thanks for joining our potluck! We'll be back with another recipe round-up soon. . .
Day 1: SECOND CHANCE ON CYPRESS LAND by Reese Ryan
Day 2: THE SECRET FRENCH RECIPES OF SOPHIE VALROUX by Samantha Verant
Day 3: SIMMER DOWN by Sarah Smith
Day 4: THE SECRET INGREDIENT by K.D. Fisher
Day 5: AN AMISH COOKIE CLUB COURTSHIP by Sarah Price
—
The Sentimental Nostalgia of Amish Sweets!
For most of us, September marks the end of summer. In general, life slows down from the chaotic schedule of shuffling children to camp, arranging family vacations, and coordinating neighborhood barbeques. Community pools close, local schools reopen (typically…although COVID has thrown us all for a loop), and the warm days give way to cooler nights.
For the Amish, however, September brings a different change and faster pace of life into their daily routine. The advent of autumn brings the labor of bountiful harvests. Farmers and their families spend days loading their wagons with pumpkins, gourds, squash, and dried corn stalks. Fields are fertilized for the next spring planting. Fences are mended in preparation for the upcoming winter. All of this in addition to regular chores around the house and farm–not to mention the pressure of the upcoming annual church council meeting, new member baptisms, member-only church communion, and the always busy wedding season.
With the chaotic shift in their lives, tasty treats and delicious desserts often replenish the body and soul while recharging their batteries, giving the Amish a moment to pause and enjoy fellowship with each other while indulging in some good ole sugary sweet.
While the family works in the field, the mother (and sometimes an older sister) will often bake sugar cookies or cinnamon buns, the fragrant aroma of flour, sugar, and, in the case of the buns, cinnamon will waft through the house. It's a mouthwatering welcome to the rest of the family for when they arrive home after a long day laboring over the autumn harvest.
Let's face it. There is something sentimentally nostalgic about home-baked sweets. Whenever I smell freshly baked bread, I instantly remember my great-uncle John who baked 18 loaves of bread every single day for the destitute. If chocolate chip cookies are filling the kitchen with their scrumptious scent, I remember my grandmother, Sarah Marie. The flavorful fragrance of certain foods can trigger emotions and memories that fulfill us in an unique and wonderful way.
This is something Edna Esh and her three childhood friends from the Amish Cookie Club know quite well.
Every other week, the four women from Shipshewana get together to bake cookies for their respective church districts. Whenever it's Edna's turn to host the Friday morning baking sessions, she loves to welcome her friends with freshly baked cinnamon buns, the smell filling her kitchen and home with the beautiful scent of friendship and love. Before the women arrive at their farmhouse, her husband, Elmer, likes to try to pilfer one, too.
Whether it's coffee with pumpkin spice bread or hot chocolate with sugar cookies, the Amish know that there is nothing more special than baking a sweet treat for their family and friends. Of course, if a little catching up–coupled with some friendly gossip and matchmaking!–ensue while enjoying those baked goods, all the better. Just ask Edna and her friends in my latest novel, The Amish Cookie Club Courtship.
EDNA'S CINNAMON ROLLS
1 teaspoon white sugar
1 package active dry yeast
1/2 cup warm water
1/2 cup milk
1/4 cup white sugar
1 1/4 cup butter
pinch of salt
2 eggs, beaten
4 cups all-purpose flour
vegetable or corn oil
1 1/2 cups brown sugar
1 tablespoon ground cinnamon
OPTIONAL: 1 cup chopped pecans, divided
Dissolve 1 teaspoon sugar and yeast in warm water and set aside for ten minutes.
Warm the milk in a small saucepan until it bubbles, then remove from heat.
Mix in 1/4 cup sugar, 1/4 cup butter, and a pinch of salt; stir until melted. Let cool until lukewarm.
In a large bowl, stir together the yeast and milk mixtures, eggs, and 1 1/2 cups flour. Add the remaining flour, a little bit at a time and mixing well before adding more.
Turn out the dough onto a lightly floured surface and knead until smooth and elastic.
Set the dough in a lightly oiled bowl and turn to coat with oil. Cover with a damp cloth and place in a warm spot, letting it rise until doubled in size.
Melt 3/4 cup butter over medium heat and add 3/4 cup brown sugar, whisking until smooth. Pour the sugar mixture into greased baking pan and set aside.
Combine remaining brown sugar, 1/2 cup pecans, and cinnamon and set aside.
Melt remaining butter and set aside.
Turn dough out onto a lightly floured surface, roll into a 20 x 14 inch rectangle.
Brush with half of the melted butter and then sprinkle the top with the brown sugar mixture.
Starting at long side, tightly roll up, pinching seam to seal.
Brush with remaining 2 tablespoons butter.
With serrated knife, cut into 12 to 14 pieces and carefully set them, cut side down, in the baking pan. Set aside, covered, and let rise for 1 hour or until doubled in volume.
Bake in preheated oven at 375 degrees for 25 to 30 minutes.
Let cool in pan for 4 to 5 minutes before inverting them onto a serving platter.
Best served warm.
COMMENT TO WIN: Which recipe are you going to try from this year's Fall Recipe Potluck? Tell us in the comments and you'll be entered to win one of FIVE copies of THE AMISH COOKIE CLUB COURTSHIP by Sarah Price (5 Winners; US and Canada only)! Thank you again for following along all week!!
—
The Amish Cookie Club #3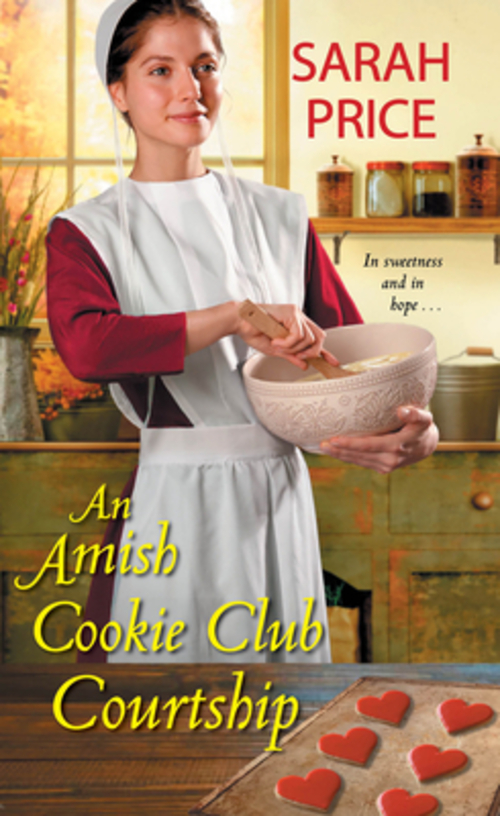 Baking cookies every other Friday for their respective church districts gives Edna Esh and three of her closest friends a chance to give to the Plain community and strengthen their bond with each other. In this third Amish Cookie Club novel by ELPA bestselling author Sarah Price, tourist season is approaching, and the Edna is busier than ever, between baking with her Amish Cookie Club friends and running her business serving meals to Englische tourists. You wouldn't think she'd have time for matchmaking. . .
Edna couldn't be happier that her new daughter-in-law, Bethany, is pregnant. But Bethany is also her best helper, and morning sickness has her out of commission. Desperate for more hands, Edna accepts a friend's offer for her twin daughters, Rachel and Ella Mae, to step in. Trouble is, the young women are constantly bickering–except when Edna's sons Jeremiah and Jonas are around. . .
It's soon clear that Rachel has taken a shine to Jeremiah, while Jonas is smitten with Ella Mae. It's also clear the feelings aren't reciprocated. But after confiding in the Cookie Club, Edna devises a plan for the pairs to spend more time together. The only problem is it seems to be failing. Yet it appears there's a grander plan at work–and as nature takes its course, and the MayFest arrives, there's reason to look forward to the bountiful sweetness of a double wedding come autumn. . .
Amish | Romance [Zebra, On Sale: October 27, 2020, Mass Market Paperback / e-Book, ISBN: 9781420149197 / eISBN: 9781420149227]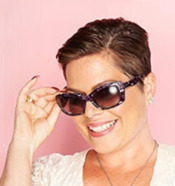 National bestselling author Sarah Price has always respected and honored her ancestors through the exploration and research about her family's Anabaptist history and their religion. For over twenty-five years, she has been actively involved in an Amish community in Pennsylvania. The author of over forty novels, Sarah is finally doing what she always wanted to do: write about the religion and culture that she loves so dearly.