I've certainly explored love in several of my novels—love between men and women (and on a couple of occasions, between men and men) as well as husbands and wives, forbidden, adulterous love and the soul-shocking, bring-you-to-your-knees kind of love a parent can have for a child. But I had never written a novel that explored and unpacked the process of falling in love—until TWO OF A KIND.
In this novel, I introduced two mismatched characters: Dr. Andy Stern, a brash, occasionally obnoxious but basically decent guy with a high risk gyn/ob practice on Park Avenue, and Christina Connelly, a seemingly frosty Brooklyn-based interior designer who thinks Andy is about as appealing as a basket full of three day-old fish. But these two find themselves attracted to each other, and I liked the process of charting the push and pull of that attraction, their attempts to resist it (each thinks the other is fundamentally wrong for her or him) and finally their inability to resist one another.
But TWO OF A KIND is not just a love story—it's a second chance at love story, which is a slightly different animal. Andy and Christina each come with significant emotional baggage—in his case, he is still mourning the death of a beloved wife from ovarian cancer and dealing with a teen-aged son who acts out his grief in a variety of ways. Christina comes to the relationship with her own issues: her adored husband Will died in a fire and her daughter Jordan, an aspiring and driven young ballet dancer, despises Andy on sight. How can these two set aside the emotionally fraught past and find their way to each other? It was my job as a novelist to delineate exactly that.
I worked on a number of fronts: I tried to show Christina's attempts to fit into Andy's world, and he into hers. I documented their growing sexual attraction, and made much of its ultimate consummation. I used humor, in a scene in which know-it-all-super-doctor Andy attempts to make dinner for Christina and other his other guests only to find that putting a meal on table is a tad more tricky than he imagined. And I explored the idea that even in a love story, love doesn't necessarily conquer all—some other factors need to come into play. I hoped that the accretion of these scenes and the arc of this narrative offer a realistic and vivid picture of what it is like for two individuals to merge into a single, harmonious unit.
Despite their difficulties, Andy and Christina persevered and it was the unfolding of their relationship, the push and pull of intimacy and fear, attraction and avoidance that became my focus in this novel. I had never charted a middle-aged relationship with all its fits and starts before, and I found I liked the process, perhaps because it dovetailed with the middle-age moment in my own life. While I am happily married and relieved that I don't have to deal with the dating scene, I could really imagine the difficulties that would face me if I did.
Maybe because I am middle-aged, I sympathized and empathized with my characters, both their desire for connection but also their fear of being wounded. And the events that help them overcome the fear were as surprising to me as they were to them. It was wonderful to find out that even middle-aged lovers—and writers—are still capable of being surprised now and then.
About Yona Zeldis McDonough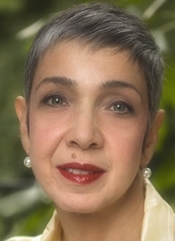 Yona Zeldis McDonough is the author of six novels; her seventh, The House on Primrose Pond, will be out from New American Library in February, 2016. In addition, she is the editor of the essay collections The Barbie Chronicles: A
Living Doll Turns Forty and All the Available Light: A Marilyn Monroe Reader. Her short fiction, articles and essays have been published in anthologies as well as in numerous national magazines and newspapers. She is also the award-winning author of twenty-six books for children, including the highly acclaimed chapter books, The Doll Shop Downstairs and The Cats in the Doll Shop. Yona lives in Brooklyn, New York with her husband, two children and two noisy Pomeranians.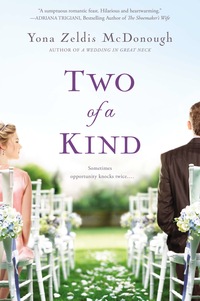 Ten years after losing her husband, Christina Connelly has worked through the pain, focusing on raising her teenage daughter and managing her small decorating business. But her romantic life has never recovered. Still, it's irksome to be set up with arrogant, if handsome, doctor Andy Stern at her friend's wedding. If he wasn't also a potential client, needing his Upper East Side apartment redesigned, she would write him off.
This is never going to work, Andy thinks. Still grieving his wife and struggling with a troubled son, he's not looking for a woman, and certainly not someone as frosty and reserved as Christina. Their relationship will be strictly business. Yet to everyone's surprise—including their own—
these two find themselves falling in love.
But if reconciling with their pasts is difficult, blending
their lives and children to create a new family is nearly
impossible. They've been given a second chance…but can
they overcome all the obstacles in the way of happily ever after?