I live for the moments when I say something shocking enough that my husband closes his eyes on a slow inhale and shakes his head back and forth. Joy bubbles through my chest, and I celebrate with an energetic fist pump. LOL! Yes, I got him!
He is my real life alpha hero. A big personality with a smart wit and a generous heart in a football player physique. And he teases me relentlessly. I'm more silly than funny and my wit runs on the slow side. I'm the person who three days after a conversation will think of the perfect come back. Craaaaaaap…too little and way too late.
So, my weapon of choice to tease my husband (and face life in general) is my inappropriate humor, and I embrace it with passion. At this time in my life, and after beating breast cancer (fingers crossed it stays that way) I've come to realize that life is way too short to live it satisfying someone else's expectations or comfort. I want to laugh, I want to love, I want to find joy in the little things and reach for the big things (sooooo many jokes running through my head right now. See?!). The struggle is real. So why not embrace it? I say the most shocking, inappropriate things I can come up with just to see him squirm, to test his boundaries, and keep him on his toes. At times he tells me he's genuinely worried about my sanity, and in those moments I feel victorious!
I love the human body and all the things you can do with it, I love being a woman, a wife, a mom, and being silly. So when all of those things come together in one beautiful moment and I say what's on my mind, unfettered by societies constraints of what a young-ish woman should say, it simply feels good. And honestly, I don't like being told what to do, so when someone tells me, "maybe you shouldn't say that," I think, "Oh, I definitely need to say that." Ha!
Being true to yourself is a gift, a freedom, that when you finally reach a time in your life where you achieve this you think. "Man self, where have you been all my life? This feels amazing!" For me that self is kind, even sometimes Polly Anna kind. Why? Because that is what feels good to me. Sometimes that self is silly and shocking. Why? Because this life is short, and I want to laugh for as much of it as I can. And what makes me laugh is shock factor. Don't get me wrong, there are plenty of things I take seriously: the health of my children, my marriage, how others are treated, and my writing career. But, I don't take myself too seriously. I'm an open book of dick jokes and sexual innuendoes, of car dancing to my favorite songs at red lights and embracing my weird like it's an Olympic sport with my kiddos, teaching them being who they are is the best thing to be and no one will ever do it as well as they can.
So, I follow my husband around the house even when he's just going to the restroom. I stand there grinning as he slowly closes the door in my face, shaking his head. When we're making dinner and he asks me to toss the salad, I leer at him and say. "I wanna toss your salad," as creepily as possible. And I tell him if I could be a man for one day, I'd want to be in his body and lock myself in a room for a full twenty-four hours. As a look of terror comes over his face, I laugh maniacally. Yet, for some miracle of miracles the guy loves me like no other. Huh…this being myself thing is working out pretty well.
Am I inappropriate or am I just me? Who's to say. It's my life, and I'm going to LIVE it! One feel good moment at a time.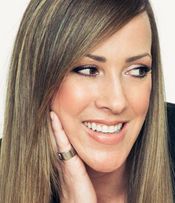 M.K. Meredith writes single title contemporary romance promising an emotional ride on heated sheets. She believes the best route to success is to never stop learning. Her lifelong love affair with peanut butter continues, only two things come close in the battle for her affections: gorgeous heels and maybe Gerard Butler or was it David Gandy? Who is she kidding? Her true loves are her husband and two children who have survived her SEA's (spontaneous explosions of affection) and live to tell the tale. The Meredith's live in the D.C. area with their two large fur babies…until the next adventure calls.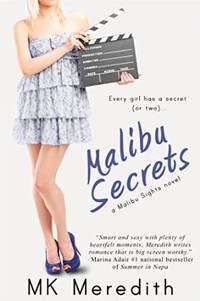 Every girl has a secret (or two)…
On the verge of losing the Malibu home she inherited from her great-aunt, Addi Dekker is completely failing to prove to her family she can make it as a writer. Not exactly how a girl proves her independence. If she doesn't want to give up her dream and go back to the soul-sucking job she just left, Addi has to swallow her dislike of Hollywood and rent the house out to the sexy-as-hell film producer.
And maybe (shhhh!) save money by secretly living there, too.
Roque Gallagher is pouring his heart and savings into his first independent film to make the industry acknowledge him for his talent and not just his family name. Addi's home is perfect for the shoot, but she's far too tempting. He's never been able to handle work and a relationship, and this is the film of a lifetime. Between a shrinking budget and his director quitting, the last thing he needs is a sexy-as-sin tease like Addi. And he has a feeling there's something she's hiding…