The London Season – famous in fiction (and still happens today, amazingly!) – was the ideal marriage market for the Regency Miss. With Parliament in session from mid-fall to early summer, the court and the gentry alike left their country estates to flock to the capital. By day some made laws, by night all made hay at a glittering round of parties, concerts and balls. Eager mamas thronged the best venues, hunting a good catch for their daughters.
Romance flowered, and not just for debutantes. Marriage could be little more than a property deal, so for married women flirtation spiced up a life of sheltered respectability. Naturally all had to be hidden. A whiff of scandal could ruin even the most powerful, but women, with so few rights, suffered most.
Saffina's passionate romance with the mighty Earl of Endale, her rakish guardian, travelled a rocky road. They quickly become lovers, sharing his taste for erotic discipline. In SAFFINA'S SEASON they're now settled and married but Lord Endale treats his new Countess to her long-promised London Season with mixed feelings. He knows her beauty and wit will make her a star, but his reputation is checkered. Worse, he dreads a rival – in the heady crush she's set to dazzle, she may fall for a younger man. The more she sparkles, the darker his mood.
She teases him about this, unwittingly causing him agonies when her secret plans for his birthday involve stolen moments with strangers. In the Clubs of St James's, gossip about the Prince Regent's latest love-interest deepens his gloom. His lordship soon fears the worst.
To keep her in line he teases her back with some extra discipline. He's a gentleman with exotic tastes, so his response is both delicate and sinister. The leather rose he regularly places by her plate or in her bosom warns her to expect an evening of fiery and unusual pleasures. Soon they're more passionately attached than ever.
But the Carlton House Ball at the height of the Season brings things to a head. Now they both get a shock. All at once she faces ruin. With her marriage and her fortunes on the brink, this Season is one she'll never forget. It takes wits, daring and an all-night dash in a bumpy carriage to reach him and turn things around.
The Suiting Saffina series was fun to write – hot and racy, punchy and fierce. After years of on-off research into the period – biographies and letters, accounts and memoirs – I do hope I caught for readers some of the excitement, the energy and the risks of the times. The real-life heroes and heroines of the period blew me away, as did the age they lived in – creative, intelligent and daring. A man's fortune was won or lost on the turn of a card, a woman's on the bat of an eyelash – all to play for, all to lose. So I made Lady Saffina bold, beautiful and brave. She takes it all on and wins.
I grew up in North America, land of hot summers, cold winters, bright butterflies and bold children. Bliss!
Now I live in the UK. My kids also say what they like but butterflies are smaller and it's wet. When the sun shines we all go nuts. Different places, different pleasures.
Writing evens things out. Do try it. You can go where you like, when you like. It's like reading, only more so. And if you don't like the ending, you can change it. Perfect!
Suiting Saffina – the series
As Lady Saffina is soon to inherit a fortune, her rakish guardian, a disgraced Earl, returns from abroad to launch her into society and find her a suitor. To her dismay, he finds her education sadly lacking. He fires her tutors and takes her in hand, determined to tame her wild ways and instill a proper sense of her rank. To her delight, his instruction is strict, detailed and exotic, especially in the darker arts of pleasure. Soon few suitors meet his lofty standards or give her the satisfaction she craves. And even after she finds one, his strict discipline continues…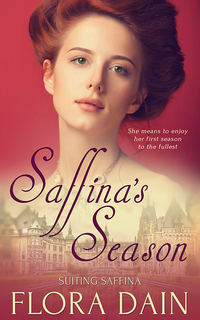 When he treats her to her first London Season, she looks set to shine. But the more she sparkles, the more he despairs.
Now happily married with a baby son, Jacquard treats Saffina to her first London Season. He's keen to show off his new countess, and she means to enjoy it to the fullest. She flirts outrageously, sees off catty remarks from jealous rivals with smart retorts and generally has a terrific time.
But when she's waylaid by footpads one night in the backstreets of Chelsea, she's unexpectedly rescued by a struggling artist. Inspired, she commissions a raunchy portrait for Jacquard's birthday. As she struggles to keep it a secret, Jacquard grows moody. Soon he suspects an affair and thrillingly, steps up her discipline by giving her a taste of leather.
But at the Carlton House ball, when the prince reveals his new mistress, both she and Jacquard get a shock. He storms out, enraged.
Has she gone too far? Will she lose her husband, her good name and her son?