Welcome, readers! Thanks for checking out our latest Fresh Interview. Features Editor Pasha Carlisle was thrilled to chat with super sweet author Candis Terry to mark the release of SWEET SURPRISE.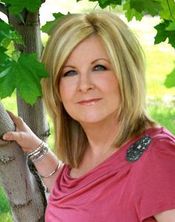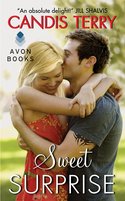 Pasha: Hi, Candis! We're so excited for you to join us today. SWEET SURPRISE is the fourth novel in your Sweet, Texas series. What keeps you loving this series as you write it?
Candis: Hello! And thank you for having me here today. What keeps me loving Sweet, Texas is, without a doubt, the characters. Sometimes I'm not sure where they came from, but from a fashionista goat to an octogenarian cowboy Casanova, they're all there, ready to pop up unexpectedly at any moment and make me laugh. Also, my absolute love for the Wilder family keeps me going strong. As an only child, I always dreamed of having siblings who'd stand by my side or call me out when I needed a little discipline. I guess I created my dream of that close-knit family in the Wilders, and I really wanted to make sure each and every one of them got their happy ending.
Pasha: We love those happily ever afters, so please keep them coming. The latest installment in the Sweet, Texas series has an extra-sweet spin to it: the heroine owns a cupcake shop! If you were to own a cupcake shop, what are some of the scrumptious flavors you would offer? Any recipes to share?
Candis: If I were to own a cupcake shop there would be big trouble! I'd probably never make a profit because I LOVE cupcakes! And while I adore chocolate, I have to admit that I'd probably experiment with cupcakes that had a tropical drink flavor. Maybe something like a Blueberry Blue Hawaii or a Peachy Tequila Sunrise.
My father-in-law lived on the Oregon Coast. When we would visit him, we'd come home with multiple five-gallon buckets of fresh blackberries that I'd use to make pies, ice cream, or cupcakes. Here's one of my favorite recipes:
Filled Blackberry Cupcakes with Blackberry Buttercream Frosting
Cupcake Ingredients:
3—6 oz packages frozen blackberries (or 2 ½ cups fresh if available)
1/3 cup milk
6 egg whites
2 tsp lemon juice
2 1/4 cup flour
1 3/4 cup sugar
4 tsp baking powder
1 tsp salt
1 1/2 sticks unsalted butter
Filling:
1 cup blackberry jam
Directions:
1. Preheat oven to 350 degrees.
2. Prepare cupcake pans with liners.
3. Puree blackberries. Filter through a fine mesh colander or cheesecloth over a bowl. Using a spatula, press blackberries through the mesh to remove seeds. Set aside 1/4 cup of puree for the frosting.
4. In a large bowl combine blackberry puree, milk, egg, and lemon juice. Mix until well blended. 5. In a separate bowl combine sifted flour, sugar, baking powder and salt. Blend together. Using a hand mixer beat at slow speed and add butter. Mix until combined and resembling moist crumbs.
6. Add the liquid mixture and beat at medium speed for about 1 minute.
7. Fill cupcake liners 1/2 full.
8. Bake 18-20 minutes or until a toothpick inserted in the center cupcake in each pan comes out clean.
9. Allow cupcakes to cool in pans for at least 20 minutes.
10. Once cupcakes are cool, use a small spoon or knife to poke a hole in the center of each cupcake. Fill hole with the blackberry jam until it reaches the top of the cupcake. Don't overfill.
Frosting Ingredients:
2 sticks unsalted butter
1/2 tsp vanilla extract
1/4 tsp almond extract
5 cups confectioner's sugar
Pinch of salt
1/4 cup blackberry puree
Directions:
1. Cream together butter, vanilla extract, and almond extract until smooth.
2. Blend in confectioner's sugar and salt. Beat together with hand mixer 2-3 minutes on high.
3. Add blackberry puree then beat for one minute.
4. To adjust consistency of frosting:
To make thinner—add a drop or two at a time of water.
To thicken—add small amounts at a time of additional confectioner's sugar.
Garnish frosting atop each cupcake with a fresh blackberry. You can also add a small fresh mint leaf or candy leaf for a pretty decoration.
Pasha: Those sound scrumptious! Before I wreck my diet, I'll ask a non-food-related question. Though you started out as a Southern California beach-lover, you are now living the good life on an Idaho farm. Has your current home inspired the Sweet, Texas setting in your books?
Candis: My "life on the farm" inspires me (and Sweet, Texas) every single day. I have to laugh when my husband reads my books, because he'll point out a particular scene and say "I know where that came from." For instance, Reno's garden (from the book ANYTHING BUT SWEET) came from my own large country garden. And I might have been inspired to write about Miss Giddy the Fashionista goat when one day I drove down the street toward town (7 miles away from my house) and there was a goat, wearing a blue bandana around its neck, standing in the middle of the road. In SWEET SURPRISE, Fiona's proposal was inspired by my very own. So you can pretty much guarantee that there will be something in each of my books that has been inspired by an event that actually happened down on the farm.
Pasha: We'll definitely be looking forward to more inspired surprises (like fashionable goats) as we read. Now it's time for a quick round of This or That (And Why!):
City Lights or Country Rides?
Country Rides—that would include on horseback, ATV, or truck! A ride in the country clears my mind and enriches my soul. I know that sounds corny but it's true. Plop me down on a big rock near a river for about an hour, and I walk away feeling like a new person.
Naughty or Nice?
Naughty, followed up with an apology. At my age I've learned that being naughty always has consequences. Not that I plan to stop doing so anytime soon. But at least I know that it often requires a cringe and an "I'm sorry."
Cake or Pie?
Unless it's a Sweet Surprise cupcake, then pie. Preferably a fruit pie topped with a heavy helping of ice cream. Okay, now I've made my mouth water, and there isn't a single slice to be found in this house.
Good Guys or Bad Boys?
Good Guys. Not all Bad Boys are redeemable. Even though as women we always think we can "fix them." Of course, I don't like my Good Guys to be perfect. Flaws rock!
Pasha: I think we all agree–flaws do rock, and pie is awesome. One last question! Fresh Fiction readers want to know: When you aren't busy writing, what do you like to read?
Candis: I must read every night before I go to bed or my characters won't let me sleep. Seriously. Jackson Wilder in SWEETEST MISTAKE was up in my face for months before I even started his book! Nighttime meant nothing to him. He just wanted to have his say all the freaking time.
My reading tastes run all over the place. I love to read contemporary romance, but most often these days you'll find my nose in a paranormal romance or a new adult romance. I also love to read biographies of the golden era movie stars like Marilyn Monroe, Clark Gable, and Judy Garland. Reading is my life. I still own many of the books I read as a child. Yes, their pages are yellowed and frail, but I just can't get rid of them. Without books I would just be very sad.
Thanks again to Candis Terry for being our guest. Readers, learn more about SWEET SURPRISE below, and pick up your copy today!
Playing naughty or nice . . .
Fiona Wilder knows all about falling in lust. Love? That's another story. Determined not to repeat past mistakes, the single mom and cupcake shop owner is focused on walking the straight and narrow. But trouble has a way of finding her. And this time it comes in the form of a smoking hot firefighter who knows all the delicious ways to ignite her bad-girl fuse.
Can lead to heartbreak . . .
Firefighter Mike Halsey learned long ago that playing with fire just gets you burned. He's put his demons behind him, and if there's one line he won't cross, it's getting involved with his best friend's ex. But when fate throws him in the path of the beautiful, strong, and off-limits Fiona, will he be able to fight their attraction? Or will he willingly go down in flames?

Or a sweet surprise!
Fresh Fiction Reviewer Miranda Owen calls SWEET SURPRISE a "fun, sexy romance with textured characters. Read the full review here.