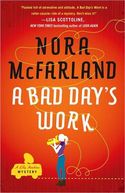 Lilly Hawkins #1
August 2010
On Sale: August 10, 2010
Featuring:
Lilly Hawkins
288 pages
ISBN: 1439155488
EAN: 9781439155486
Trade Size
$14.99
Mystery Amateur Sleuth, Mystery Woman Sleuth
Buy at Amazon.com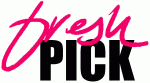 Fresh Fiction Readers favorite Summer read!
A Bad Day's Work
by Nora McFarland
The debut in a new series, A Bad Day's Work is a fast-paced and funny mystery starring a wonderfully flawed TV shooter.
Lilly Hawkins is having one of those days. . .
The last thing she needs is a murder to solve.
Nothing seems to be going Lilly's way. A TV news photographer at her hometown television station, she's one of the hardest working "shooters" there, but her pit-bull personality and a series of unlucky blunders have put her job in jeopardy.
So when an urgent story breaks in the middle of the night, Lilly is determined to turn her bad luck around and get the respect she deserves. But the pressure is on; either she delivers amazing video or she's fired. After busting her butt and dodging the cops, Lilly has what could be the biggest scoop of her career—exclusive video of a murder scene. Or does she have it? Lilly is stunned when the tape played in front of the entire newsroom is nothing but dead air.
Soon she's on the run from criminals and police, both of whom claim Lilly's video is the key to solving the murder and think she pocketed the real tape. Can she escape her pursuers long enough to catch the killer, or will she end the day as the next victim?
Lilly's bad day just keeps getting worse, but the one thing she knows for sure is that she'd like to live to see more of them. . . .

Lilly Hawkins is having the worst day of her life…and it could be the last.