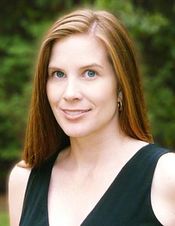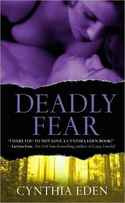 There are all kinds of monsters to be found within the pages of romance novels these days. You can find sexy vampires, wild (and hot) werewolves, and dangerous demons.
I love these monsters, and I usually have a wonderful time writing about them. Sometimes, though, readers have asked me if it is hard to create a character that is more "monster" than man. And, honestly, it's not.
You see…with every monster that I create (whether I am creating a succubus heroine or a vampire hero), I make sure that I always give these paranormal beings human traits and characteristics. After all, they are monsters, but they aren't perfect. So my monsters have fears, they have bad habits, and they have weaknesses…just like humans. I've found that when you give paranormal characters human flaws, well, then it is much easier for readers to identify with those supernatural beings.
But, now, let me mix things up a bit. ? For a while, I only wrote about my paranormal heroes and heroines, but last month, I released my first romantic suspense novel with Grand Central Publishing's Forever line. DEADLY FEAR follows two FBI agents as they track a sadistic serial killer. With this book, I had to slide into the mind of a real human monster.
I found it was much harder to get into my serial killer's mind. His mind was darker, and it was very twisted. But…I still had to show his character as a three dimensional being. He couldn't be entirely evil. He had to exist as (semi) normal in many of the scenes. So I gave him flaws as well. I have him needs. I showed the flaws in his psyche, and I showed (hopefully!) that monsters can hide in plain sight.
It seems that no matter what I write, I find myself surrounded by monsters.
But what about you? Do you find it easy to relate to paranormal characters? What makes them "normal" for you? And when it comes to killers, how do you feel about getting into their minds?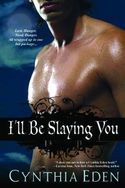 One winner will receive either a copy of my romantic suspense, DEADLY FEAR, or a copy of my latest paranormal romance, I'LL BE SLAYING YOU (winner's choice!).
Thanks for checking out my post!
Best wishes,
Cynthia Eden
CynthiaEden.com
I'LL BE SLAYING YOU–Available now from Kensington Brava
DEADLY FEAR–Available now from Grand Central Publishing (Forever)