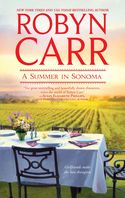 July 2010
On Sale: June 29, 2010
400 pages
ISBN: 0778328708
EAN: 9780778328704
Mass Market Paperback (reprint)
$7.99
Women's Fiction
Buy at Amazon.com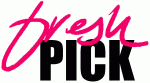 Fresh Fiction Readers favorite Summer read!
A Summer In Sonoma
by Robyn Carr
Girlfriends make the best therapists.
Elly, Sable, Barbara Ann and Beth. They have been drawn together by the sudden death of their friend Gabby—and the favor she has asked of them. For these four women, whose own lives have become unhappy works of fiction, a summer spent sorting through Gabby's personal papers offers the perfect challenge—and the perfect escape.
Elly — the intellectual spinster who's hidden herself within the walls of academia, afraid to admit that she's tired of being alone.
Sable — her bestselling novels have made her a star, but the woman who has everything in fact has nothing except a past she's desperate to hide.
Barbara Ann — the talent behind twenty-six romance novels, who wakes up one day to find she's lost control of her career, her sanity and her family.
Beth — her popular mysteries have become the only way she can fight back against the secret tyranny of her abusive husband.
In the house on Olive Street, away from their menagerie of troubles, these women will discover something marvelous: themselves, each other and pieces of a dream that only they can make happen. For in telling the hidden story of a remarkable woman, their own lives are about to change.

I laughed, I cried, I related to the characters & I enjoyed every page of this moving novel of friendship.

Fans of Virgin River rejoice, Carr is moving to wine country.
Excerpt
Cassie and Ken walked out of the bar together at seven-thirty. In the rapidly descending darkness of a perfect June night, he pulled her into his arms and covered her mouth in a powerful kiss. Wow, she thought. It was a good kiss—consuming and deep. His hands were running up and down her back. Then one slipped around her side, reaching for a breast, and she withdrew. She pushed him away, laughed nervously and said, "Hold on, pardner. Getting a little ahead of yourself, aren't you?"
"Sorry," he said. "I've been looking at you, wondering, you know…"
"Well, wonder no more, big fella—rest assured I am definitely a girl. Now, don't we have plans? Live music in the park?"
"That's right," he said, laughing. Then, again, "Sorry."
As he walked her to his car, she Read More… Previous Picks