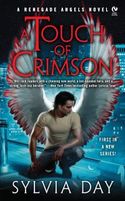 Renegade Angels # 1
October 2011
On Sale: October 4, 2011
Featuring:
Shadoe; Adrian Mitchell
368 pages
ISBN: 0451234995
EAN: 9780451234995
Paperback
$7.99
Paranormal Romance, Paranormal – Supernatural, Romance Paranormal
Buy at Amazon.com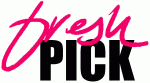 A Touch Of Crimson
by Sylvia Day
FIRST IN A NEW SERIES! CAN TRUE LOVE SURVIVE A WAR BETWEEN ANGELS, VAMPIRES, AND LYCANS?
Adrian Mitchell is a powerful angel leading an elite Special Ops unit of Seraphim. His task is to punish the Fallen–angels who have become vampires–and command a restless pack of indentured lycans. But Adrian has suffered his own punishment for becoming involved with mortals–losing the woman he loves again and again. Now, after nearly two hundred years, he has found her–Shadoe–her soul once more inhabiting a new body, with no memory of him. And this time, he won't let her go…

Exciting new world that will have the pages turning!

A touch can bring it all back or take it all away.