Fresh Pick for Monday, June 9th, 2014 is AGAINST THE WILD by Kat Martin
#SuspenseMonday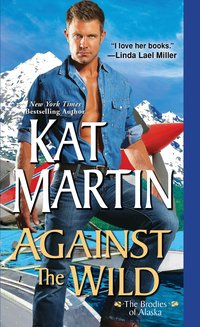 The Brodies
Zebra
June 2014
On Sale: May 27, 2014
400 pages
ISBN: 1420133829
EAN: 9781420133820
Kindle:
B00GYLVSJQ
Mass Market Paperback / e-Book
Add to Wish List
Romance Suspense
Buy A Copy

Against the Wild
by Kat Martin
Alaska – Where the men are as bold and untamed as America's last wilderness
It's been three years since Lane Bishop tragically lost her fiancé, and she's finally ready to risk her heart on someone else. The hot look in Dylan Brodie's eyes says he's going to be that man.
But when Lane flies to the remote 1930's fishing lodge to help him renovate, she discovers a little girl who won't speak, eerie legends and strange sounds in the night. And when she investigates the history of the lodge, she uncovers a legacy of injustice and murder.
As danger stalks his daughter and the woman he is coming to love, Dylan must risk everything to uncover the shocking truth.

Sparks Ignite the Wilds of Alaska in Kat Martin's Newest Series
Excerpt
The low moaning of the wind awakened him. The old fishing lodge, constructed in the thirties, was built of hand-hewn logs, the chinking between them worn by time and weather, leaving spaces for the air to blow through. An eerie keening echoed inside the house, a chilling sound that sent shivers down Dylan's spine.
Just the wind, he reminded himself. Nothing to do with stories of ghosts and hauntings. Just an inconvenience, nothing more.
Still, he had Emily to think of. Dylan Brodie swung his long legs to the side of the bed, shrugged into his heavy flannel robe, and padded barefoot down the hall toward his daughter's bedroom.
Dylan had fallen in love with the place the moment he had seen it, perched on Eagle Bay like a guardian of the two hundred forested acres around it.