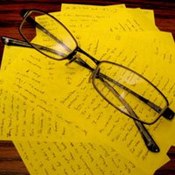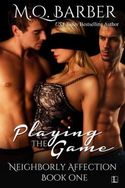 Henry thundered into my life with one persistent demand: Tell the story of how he and his lover seduced their neighbor into a romantic relationship.
At the time, I had no idea that taking Henry's command to heart would produce the Neighborly Affection series or propel the first book, PLAYING THE GAME , onto the USA Today bestseller list. I only knew I had three characters – Henry, Jay, and Alice – who wouldn't be denied.
The whole thing started one night at dinner, Alice, the neighbor in question, informed me.
She's a practical gal, an engineer who's maybe a little too career-focused and definitely not a fan of emotional entanglements. Her remembrance of that first night is a scorcher, thrilling and sexy and spiced with the unexpected joy she finds in handing control over to Henry.
Not so, Henry insisted. The attraction started the day they met.
He's a long-term thinker, an artist and something of a strategist. Sizing up Alice's potential comes as natural to him as being a welcoming neighbor and a charming host. He'll tease out the desires she hides from herself, and he has the perfect lures with which to do it: a no-strings contract and the promise of fulfilling sex with himself and his submissive partner.
Tougher than it sounds with two headstrong, determined people analyzing instead of acting, Jay assured me. His lovers would still be circling each other like wolves sizing up their territorial boundaries if not for him.
His years of playing with a reserved, quietly commanding master haven't diminished Jay's natural exuberance, his eager-to-please attitude and puppyish affection. Giving his partners pleasure is a potent aphrodisiac for the athletic bike messenger. His job is hardest of all – following Henry's lead, satisfying Alice's desires, and keeping them all laughing through the rough spots.
The trio's story unfolds in a seduction that's part physical, part emotional, and all psychological. Their sexual encounters push boundaries and deepen bonds in meaningful ways, guiding them toward a committed polyamorous relationship they'll have to define for themselves.  The one constant is Henry's firm but compassionate control. And as Alice discovers, obeying Henry reaps rewards and enriches life beyond the bedroom.
Henry, Alice, and Jay's evolving relationship begins in PLAYING THE GAME (Neighborly Affection #1) and continues in CROSSING THE LINES (Neighborly Affection #2) and HEALING THE WOUNDS (Neighborly Affection #3). Readers can sample the series with a quick peek into the trio's future in the short story Three-Way Tie.