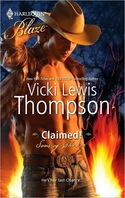 Sons of Chance #3
August 2010
On Sale: August 1, 2010
Featuring:
Josie Keller; Jack Chance
224 pages
ISBN: 0373795602
EAN: 9780373795604
Mass Market Paperback
$4.99
Romance Contemporary
Buy at Amazon.com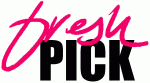 Claimed!
by Vicki Lewis Thompson
He's her last chance…
Following a dream brought Josie Keller to Shoshone, Wyoming. Following her heart brought her plenty of great sex with good-time cowboy Jack Chance! She was head over heels for him… until he left her.
Stay with one woman? Not a chance! Then why does Jack miss Josie like crazy? Had their relationship been more than just incredible sex?
Little do Josie and Jack know that a plan's afoot to get them back in the saddle…together. And once there, it's not long before they're burning up the bedsheets again!
But the past is never far away. Before it catches up with them, Jack has to decide if he's going to stake his claim on Josie, or lose her forever….
Excerpt
Present day
"Josie, there's a drunken cowboy at the door."
Jack Chance stared at the tall guy silhouetted in the doorway of Josie's place. His Josie. "Who the hell are you?"
"That's none of your business. Look, Josie closed the bar thirty minutes ago, and besides, you don't look as if you need another—"
"You'd better not be her boyfriend." Jack was a tad bit liquored up, but he'd been sober enough to climb the stairs to Josie's apartment above the Spirits and Spurs without stumbling. He also was sober enough to understand the significance of a guy answering her door at this hour of the night.
The intruder shifted his stance. "And you'd better be on your Read More…