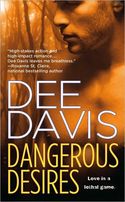 A-Tac #2
July 2010
On Sale: July 1, 2010
Featuring:
Madeline Reynard; Drake Flynn
384 pages
ISBN: 0446542040
EAN: 9780446542043
Mass Market Paperback
$6.99
Romance Suspense
Buy at Amazon.com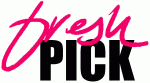 Fresh Fiction Readers favorite Summer read!
Dangerous Desires
by Dee Davis
Love is a lethal game.
A-Tac is an elite CIA unit masquerading as faculty at an Ivy League college.
Brilliant, badass, and seemingly bulletproof, the members of A-Tac are assigned to the riskiest missions and the most elusive targets. When the CIA learns that Madeline Reynard, the mistress of international crime-lord Miguel Ramón, can provide the location of a newly developed bio-chemical weapon, they contact A-Tac. And A-Tac survivalist Drake Flynn is given the responsibility of extracting Madeline from Ramón's compound, finding the weapon, and transporting them both to a secure location.
A woman with nothing to lose, Madeline is willing to risk everything to escape her life with Ramón – even a dangerous trek through the jungle with a man who makes no secret of his disdain. Madeline had an impoverished and dangerous childhood, and she makes no apologies for the life she's led, but despite mutual animosity, she cannot deny her attraction to Drake.
As Drake and Madeline battle their personal demons, the team races against the clock to locate the hidden weapon. But Ramón and his men are never far behind. And when the couple are separated from the others, what began as a simple extraction becomes a battle for their very survival, with the two of them forced to rely on each other – or die.

The black ops A-TAC group is again involved in an action-packed adventure with dramatic results.
Excerpt
Hotel Montague – Paris
"So do you think we're ever going to feel like a normal couple?" Annie asked as they stumbled back into their hotel room, Nash's hands cupping her breasts, his breath hot against her cheek.
"Trust me, angel, normal is overrated." He pushed her back against the wall, his thumbs rubbing heated circles through the soft silk of her halter top. "And anyway I kind of like what we've got."
"Right," she sighed, shivering as he kissed her neck. "Sex on the run."
"Well, it's not like we have a lot of free time." His mouth slanted over hers, his tongue sending fire lacing through her belly. It was always like this. Combustible. Their desire heightened by the possibility that each time could be the last.
"Maybe we should adjourn to the bedroom?" She Read More…