Fresh Pick for Sunday, February 21st, 2016 is FIND HER by Lisa Gardner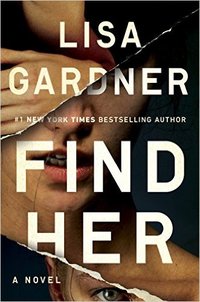 Flora Dane is a victim.
Seven years ago, carefree college student Flora was kidnapped while on spring break. For 472 days, Flora learned just how much one person can endure.
Flora Dane is a survivor.

Miraculously alive after her ordeal, Flora has spent the past five years reacquainting herself with the rhythms of normal life, working with her FBI victim advocate, Samuel Keynes. She has a mother who's never stopped loving her, a brother who is scared of the person she's become, and a bedroom wall covered with photos of other girls who've never made it home.
Flora Dane is reckless.
. . . or is she? When Boston detective D. D. Warren is called to the scene of a crime—a dead man and the bound, naked woman who killed him—she learns that Flora has tangled with three other suspects since her return to society. Is Flora a victim or a vigilante? And with her firsthand knowledge of criminal behavior, could she hold the key to rescuing a missing college student whose abduction has rocked Boston? When Flora herself disappears, D.D. realizes a far more sinister predator is out there. One who's determined that this time, Flora Dane will never escape. And now it is all up to D. D. Warren to find her.
Lisa Gardner, a #1 New York Times crime thriller novelist, began her career in food service, but after catching her hair on fire numerous times, she took the hint and focused on writing instead. A self-described research junkie, her work as a research analyst for an international consulting firm parlayed her interest in police procedure, cutting edge forensics and twisted plots into a streak of internationally bestselling suspense novels, including her most recent release, FIND HER.
With over 22 million books in print, Lisa is published in 30 countries. Her success crosses into the small screen with four of her novels becoming movies (At the Midnight Hour; The Perfect Husband; The Survivors Club; Hide) and personal appearances on television shows (TruTV; CNN).
Lisa Gardner's novels have also received awards from across the globe. Her novel THE NEIGHBOR was recognized as the Best Hardcover Novel from the International Thriller Writers in the United States and Grand Prix des lectrices de Elle, prix du policier in France. She was also recognized with the Daphne duMaurior Award presented by RWA in 2000 for THE OTHER DAUGHTER.
Readers are invited to get in on the fun by entering the annual "Kill a Friend, Maim a Buddy" Sweepstakes at LisaGardner.com, where they can nominate the person of their choice to die in Lisa's latest novel. Every year, one Lucky Stiff is selected for Literary Immortality. It's cheaper than therapy, and you get a great book besides.
Lisa lives in New Hampshire with her auto-racing husband and black-diamond skiing daughter. She spends her days writing in her loft with a gentle old sheltie and a wonderfully silly puppy.
The Fresh Pick is chosen by a group of readers and is never a purchased advertisement or promotion. We've picked this book because it appeals to us and we like to share our diverse tastes in reading and hope you'll give it a try.