West Cork has long been considered one of the most beautiful parts of Ireland, with its rolling hills, prehistoric monuments, herds of grazing cattle and flocks of sheep, and rocky coastline with a scattering of fishing villages. Plenty of people from other countries have bought vacation homes there, to enjoy the peace and quiet.
But there are some outsiders who have been attracted by the rambling coastline for centuries: first pirates, and now international smugglers.
I would never have known until I introduced myself to a police sergeant in Skibbereen, who was not what I would have expected: not only does he have 35 years of experience at different postings throughout the country, but he's smart, charming, and funny, and he's also a genealogist and historian. I couldn't have found a better advisor for the County Cork mysteries.
He was the one who told me about the smuggling. Actually he first told me about one case that happened several years ago, that sounded like a comedy of errors (the smugglers put the wrong kind of fuel in their boat?), but there are other, more recent cases. And we're talking hundreds of millions of euros in smuggled drugs (and liquor, and tobacco, and other items).
What does this have to do with the small pub that my character Boston-born Maura Donovan runs in the small town on a harbor in West Cork? Because when a local man disappears, and a body is washed up on a beach, people care. Everyone knows everyone else in that part of the world. They may be willing to turn a blind eye to a little harmless illegal activity, but when one of their own is threatened, they're going to step up and help.
Rural Ireland is a surprising mix of the traditional and the modern. There may be wireless connections in isolated valleys and windmills for power on the hillsides, but personal connections still matter. It's not always easy to write about crime there, because the crime rate is very low, but that makes each crime that much more important.
So this story is not so much about smuggling, but about how people look out for each other in Ireland, even if it's dangerous.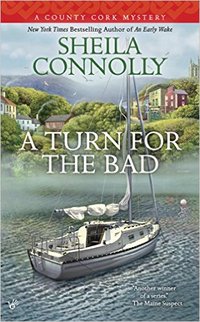 The New York Times bestselling author of AN EARLY WAKE returns to Ireland where Sullivan's Pub owner Maura Donovan gets mixed up with smugglers.
After calling Ireland home for six months, Boston expat Maura Donovan still has a lot to learn about Irish ways—and Sullivan's Pub is her classroom. Maura didn't only inherit a business, she inherited a tight-knit community. And when a tragedy strikes, it's the talk of the pub. A local farmer, out for a stroll on the beach with his young son, has mysteriously disappeared. Did he drown? Kill himself? The child can say only that he saw a boat.
Everyone from the local gardai to the Coast Guard is scouring the Cork coast, but when a body is finally brought ashore, it's the wrong man. An accidental drowning or something more sinister? Trusting the words of the boy and listening to the suspicions of her employee Mick that the missing farmer might have run afoul of smugglers, Maura decides to investigate the deserted coves and isolated inlets for herself. But this time she may be getting in over her head…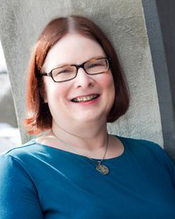 Sheila Connolly, Anthony and Agatha Award–nominated author, writes three bestselling cozy mystery series for Berkley Prime Crime. Her Museum Mysteries are based in Philadelphia, her Orchard Mysteries take place in rural Massachusetts, and her County Cork Mysteries are set in Ireland, and include BURIED IN A BOG and SCANDAL IN SKIBBEREEN, both New York Times bestsellers. In addition, she writes an paranormal romance series, which began with RELATIVELY DEAD in 2013. She has also published ONCE SHE KNEW, a romantic suspense, and REUNION WITH DEATH, a traditional mystery set in Tuscany, as well as a number of short stories. She lives in Massachusetts with her husband and three cats, and visits Ireland as often as she can.