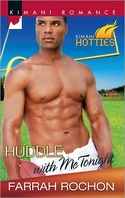 September 2010
On Sale: September 1, 2010
Featuring:
Paige Turner; Torrian Smallwood
224 pages
ISBN: 0373861796
EAN: 9780373861798
Paperback
$6.25
Romance, Multicultural RomanceBuy at Amazon.com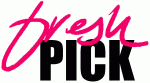 August pre-season football needs a little romance. Buy for your e-reader!
Huddle With Me Tonight
by Farrah Rochon
All Paige Turner wants is to be taken seriously as a journalist. The entertainment columnist and blogger extraordinaire gets more notoriety than she planned when her scathing review of NFL superstar Torrian Smallwood's memoir sparks an online confrontation. But that's nothing compared to the sensual heat that tackles her when she meets the heart-stoppingly sexy athlete face-to-face….
Torrian can't let Paige derail his dream of a new career as a restaurateur. Even if the sassy, sultry writer is making America's favorite wide receiver yearn to be on the receiving end of her desire. And with a reality TV cook-off propelling them into the spotlight, Torrian can no longer hide his passionate secret goal—to build a future with the woman who's making an end run around his heart….

The perfect romantic read to kick off the NFL season
Excerpt
Paige rounded the corner of Mancini's Grocery and spotted the owner in his usual spot, just outside the door, a green apron tied around his waist and a broom in his hand.
"How's it going, Bruno?"
"Just fine, Ms. Turner," he answered, giving the sidewalk in front of the store's entrance a sweep, then extending his hand to help her up the single step. "Got a special treat in the store today: celebrities," Bruno said.
"Really? You finally got Jerry Seinfeld into your store?"
"Not yet," Bruno shook his head. "A couple of Sa–"
A large woman with a teased hairdo stomped out of the store. "Bruno Mancini, this artichoke is not fresh," she barked.
Paige gave Bruno an apologetic shrug as she left him to handle the irate shopper. She unfolded her canvas grocery Read More…