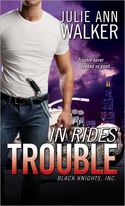 Black Knights Inc. #2
September 2012
On Sale: September 4, 2012
Featuring:
Frank Knight; Becky Reichert
384 pages
ISBN: 1402267169
EAN: 9781402267161
Kindle:
B007ZI08BQ
Paperback
$6.99
Romance Suspense, Romance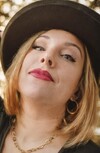 Great new series, suspense to keep you on your toes.
In Rides Trouble
by Julie Ann Walker
Black Knights Inc.
Rebel with a Cause
Becky "Rebel" Reichert never actually goes looking for trouble. It just has a tendency to find her. Like the day Frank Knight showed up at her door, wanting to use her motorcycle shop as a cover for his elite special ops team. But Becky prides herself on being able to hang with the big boys-she can weld, drive, and shoot just as well as any of them.
Man with a Mission
Munitions, missiles, and mayhem are Frank's way of life. The last thing the ex-SEAL wants is for one brash blonde to come within fifty feet of anything that goes boom. Just the thought of Becky in danger makes Frank break out in a cold sweat. Unfortunately, she's just been captured by Somali pirates. Come hell or high water, he will get her back and make sure that once she's safe, she never wants to leave his side.