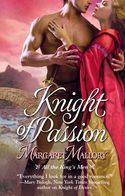 All The King's Men #3
June 2010
On Sale: May 27, 2010
Featuring: Lady Linnet; Sit James Rayburn
384 pages
ISBN: 0446559865
EAN: 9780446559867
Paperback
Romance Historical
Buy at Amazon.com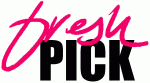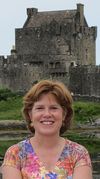 Fresh Fiction Readers favorite Summer read!
Knight Of Passion
by Margaret Mallory
HOW CAN THIS PASSIONATE KNIGHT…
Renowned beauty Lady Linnet is torn between two desires: revenge on those who destroyed her family or marriage to her childhood sweetheart Sir James Rayburn. One fateful night, she makes a misguided choice: she sacrifices Jamie's love for a chance at vengeance.
TRUST A BEAUTY WITH A PAST?
Jamie Rayburn returns to England in search of a virtuous wife-only to find the lovely Linnet as bewitching as ever. Their reckless affair ignites anew, even hotter than before, although Jamie vows to never again trust her with his heart. Then just as Linnet begins to make amends, she's tempted by one last opportunity to settle old scores. But a final retribution could cost her Jamie's love – this time forever.
Excerpt
The stench of the Thames made Sir James Rayburn's eyes water as he rode through the angry crowd. Men glared at him but moved out of the way of his warhorse. As he pushed through them, his thoughts returned to the evening before.
Over supper, the other guests pressed Jamie for news of the fighting in France. As he warmed to his tale, the ladies leaned forward, hands pressed to their creamy bosoms.
He liked to tell stories. Just when he had begun to enjoy himself, Linnet's words came back to him. What you need, Jamie Rayburn, is a dull English wife who will be content to spend her evenings listening to you recite tiresome tales of your victories.
After all these years, Linnet's ridicule still rankled. Damn the woman. Five years since he'd seen her, and she Read More…