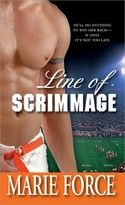 September 2008
On Sale: September 1, 2008
Featuring: Susannah Sanderson; Ryan Sanderson
368 pages
ISBN: 1402214243
EAN: 9781402214240
Paperback
$6.99
Romance Contemporary
Buy at Amazon.com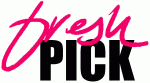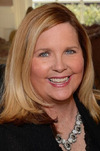 Line of Scrimmage
by Marie Force
In the Hail Mary play of a lifetime, an NFL quarterback has just 10 days to win back his wife, before she divorces him and marries someone else.
He's a football star, and he'll do anything to win back his soon-to-be-ex wife. But her new fiancé will do anything to stop him …
Rough and sexy Ryan Sanderson, Denver Mavericks quarterback, has just 10 days to convince Susannah to give him a second chance before their divorce is final. Too bad she's already engaged to the boring but safe guy she dated in college before she met Ryan.
Marriage to Ryan was a whirlwind of passion and energy that left her feeling exhausted. Tired of playing second fiddle to his team, wary of the women throwing themselves at her superstar husband, afraid of the hard hits he took on the field, Susannah decided that sometimes the thing you want the most is bad for you.
Until Ryan comes back, determined to win her back, and willing to give up everything except her love …

Quarterback in the Sack
Excerpt
At the sound of boots landing in her foyer. . .
"Excuse me," Susannah stammered to her fiancé Henry and his parents as she rushed from the dining room, through the kitchen, and into the foyer, stopping short at the sight of her ex-husband, Ryan.
"What are you doing here?" she asked in an exaggerated whisper.
He was bent in half putting something into the shabby duffle bag that sat at his feet. When he slowly stood up to his full six-foot, four inches, his signature Stetson shaded half his face. One deep dimple appeared when he smiled at her. "Hello, darlin," he said in the lazy Read More…