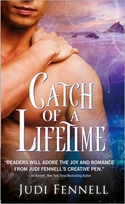 Thanks so much for having me back to talk about my latest release, CATCH OF A LIFETIME, the story of Mer princess Angel Tritone (younger sister to Rod and Reel from the other two stories), and Logan Hardington, a Human who wants nothing more than Normal in his life. A Mer(maid) is as far from Normal as you can get.
I had a lot of fun with this series, both with the stories themselves–the characters' journeys–and the storytelling. See, I was a language major in college (my degree is in Spanish). As such, I had to take a second foreign language (French), and had taken that and some German in high school, in addition to the required English courses. I loved all of them because I love language.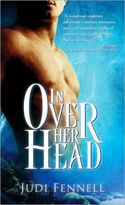 I hadn't realized how much I did though, until I started writing IN OVER HER HEAD, the first book in my Mer series. Oh, the story started off pretty straightforward, nothing to indicate it would veer down the pun-filled slope it did. When the Mer man, Reel, showed up I still had no clue.
Then Reel's sidekick showed up, a suckerless remora fish named Chumley, who goes by the nickname Chum. Okay, that made me giggle. Then I figured out his last name: Masticar, which, in Spanish, means "to chew." More laughter ensued.
And then the heroine met Reel, and she, thinking she was suffering from the bends since she was breathing under the sea and we all know that's not possible, asked Reel if he had a friend Rod. Reel's answer? "He's my brother. He's in charge of the South Atlantic."
And that was when the whole "punny" thing was born. I sat back and looked at my screen. He had a brother? Named Rod? Who's in charge of the South Atlantic? Who knew?
I sure didn't, but once that came out of Reel's mouth, and Chum started yacking, I knew I had to go with the flow. (See?) It's amazing how many sea-themed sayings we have in our daily lives. I began hearing all of them when I entered that first book in an online contest where people could make comments. And, yes, "you're punny" came up quite a bit.
So when I wrote the next two stories, I let my imagination and love of language fly.
Which leads me to CATCH OF A LIFETIME. The story takes place off the east coast of central Florida, and a hammerhead shark shows up from his home base off the coast of New Jersey. His name? A.C. after Atlantic City. He's kind of thug-like, mafioso-type and the moniker just seemed to fit.
What I hadn't realized was that when I put it together with his last name, this is what I got:
A.C. Hammer.
And, yes, he does say "you can't touch this" in the story. How could he not?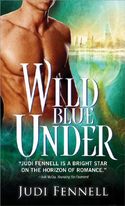 Then there's the seagull named Taylor. If you've read WILD BLUE UNDER you'll have met the head of the Air Security Agency, the seagull, Livingston. I couldn't not name a seagull Livingston when he showed up in that story, but I didn't want him showing up again in Catch of a Lifetime. It's a big sky; there are lots of seagulls. He didn't have to be the one in this story.
So I had to come up with another name for this seagull. Livingston was already taken and Jonathan is just too obvious, so I chose Taylor. Anyone want to guess why?
I'll be back to answer at the end of the day.
If you want to check out excerpts and deleted scenes from my Mer series, as well as register for the chance to win the third (and last) romantic beach getaway weekend-this one in West Palm Beach, FL at the Hibiscus House B&B –please check out my website
CATCH OF A LIFETIME" BY JUDI FENNELL–IN STORES FEBRUARY 2010!
Mermaid Angel Tritone escapes a shark by jumping into single dad Logan Hardington's fishing boat. All his young son Michael wants for his birthday is a mermaid, and if his dad will only play his cards right, now he'll have one…
Angel wants to give Michael his most beloved birthday gift (a real live mermaid) while also getting to know his father and getting him to help her in her mission to stop humans from destroying the oceans. Logan has never met a woman who cared as much about the same things he does, and she's never met a man who understood her deepest commitment to humanity and nature. When an enemy of conservation shows up and tries to kill Angel, Logan has to choose between continuing the life he's known, or following the woman he loves to the bottom of the ocean…
The third novel in Judi Fennell's mermaid series, a fresh, exciting, and different entry in romance fiction!
About the Author
Judi Fennell is an award-winning author. Her romance novels have been finalists in Gather.com's First Chapters and First Chapters Romance contests, as well as the third American Title contest. She spends family vacations at the Jersey Shore, the setting for some of her paranormal romance series. She lives in suburban Philadelphia, PA. For More information, and a chance to win a romantic ocean getaway, visit www.judifennell.com.
click here to leave a comment today for a chance to win a copy of CATCH OF A LIFETIME – Two Winners!!!