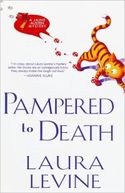 August 2011
On Sale: July 26, 2011
Featuring:
Jaine Austen
304 pages
ISBN: 0758238479
EAN: 9780758238474
Hardcover
$22.00
Mystery Amateur Sleuth, Mystery Cozy
Buy at Amazon.com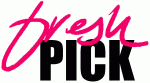 Our summer mystery picks
Pampered To Death
by Laura Levine
Jaine Austen is looking forward to an indulgent spa getaway— until she learns it's more about deprivation than relaxation. Between miniscule meals and a deadly brush with fame, surviving this vacation will be no piece of cake… When Jaine's friend Lance surprises her with a trip to The Haven, an über-luxe health spa on the California coast, she and her feline pal Prozac are eager to hit the road and bask in a week of pampering and pedicures. But upon their arrival, she discovers that this oasis in the hills is merely a fat farm in disguise, complete with celery-juice cocktails, humiliating weigh-ins, and a zero-tolerance position on carbs. And as she gets to know her fellow inmates, she realizes 300-calorie dinners aren't the craziest thing she'll be dealing with.
Among her bulge-battling companions is Mallory Francis, a B- list movie star with a knack for making frenemies with everyone she meets. When she's found strangled during a seaweed wrap gone awry, Jaine is hard-pressed to think of anyone who couldn't have done it. Perhaps it was Kendra, Mallory's bitter sister-slash-personal assistant. Or maybe Clint, a macho former co-star whose dirtiest secret is in danger of being undressed in the drama queen's upcoming memoir. Or was it The Havens' pretty young masseuse, driven to commit a crime of passion when Mallory seduced her aerobics instructor husband Sven?
With the suspects mounting faster than her hunger pangs, Jaine doesn't know who to believe. And when her search for truth, justice and contraband calories leads her straight to the cold-blooded killer, it seems murder may be on the menu once again…

A Relaxing Spa Week Turns Murderous

Jaine thinks she's going to a luxurious health spa, but instead experiences a diet boot camp from Hell.