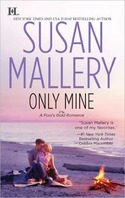 Q: Your newest book takes us back to Fool's Gold, California. It's a town with more men than women and yet you never seem to have a hard time working in smart, hunky guys. Tell us about Finn, the brooding pilot who makes our heroine Dakota swoon in ONLY MINE.
Do you find it's harder to write the male or female characters, and why?
I don't find it difficult to write from the male perspective. In some ways, it's easier because men tend to cut to the chase more quickly than women. They think in straight lines, whereas we women take a circuitous route. One of the things I love best about writing is the freedom to slip into my characters' heads and to look at the same event from different perspectives. I think it makes me more empathetic in real life, too.
Q: When you first created Fool's Gold and started writing novels based there, did you have upcoming characters–like Dakota and her sisters–in mind, or has that come since you created the town? How has the series evolved?
I tend to think about a year ahead. So while I wrote the 2010 Fool's Gold books, yes, I did know that the Hendrix triplets would be my heroines this year. I love writing about sisters, and triplets were especially fun. This year, you'll meet the heroines of next year's Fool's Gold books, three women who are destined to fall in love with rugged cowboy brothers.
Q: Even though you write light, contemporary fiction, ONLY MINE and some of the other books in the Fool's Gold series take on major issues, like infertility and adoption. How do you manage to keep real topics approachable in each book? And how do you decide which newsworthy topic you're going to write about next?
I think the key to keeping any topic approachable is the character. If the reader feels like she knows the character and can relate to how she thinks and feels, she will gladly go along for the emotional journey. As for how I decide which topics to write about… that's a tougher question. Ideas come from everywhere, all the time. Some make no more impression than a feather landing for an instant and then floating away in the breeze. But some ideas stick with me, make me play the "what if" game in my head… those are the ideas that grow into books.
Q: As a writer, what kinds of books inspire you? Do you ever find time to read when you aren't writing your own novels?
I'm a reader first, a writer second. I always have at least two books going — one nonfiction and one fiction usually romance, which I adore). What inspires me? A great story written well. When I read a really amazing book, I turn off the writer side of my personality and allow myself to be carried away. Then I re-read it and analyze what made it work. My goal with every single book is to write a story that readers will love, so I work hard to improve my craft.
Q: Tell us what we can expect next from Fool's Gold. Will Dakota's sisters be getting their own books?
Yes! ONLY YOURS and ONLY HIS, the stories of Montana and Nevada Hendrix, will be released over the next two months. Here's a little bit about each book to whet your appetite:
ONLY YOURS — September August 30)
ONLY YOURS is a beauty & the beast story, with Dr. Simon Bradley playing both roles. He is the most physically stunning man that Montana Hendrix has ever met… on one side of his face. The other side of his face is scarred. But the scars run deeper than that. It will take the love of a happy woman and a tiny dog to teach the good doctor to open his heart.
ONLY HIS — October September 27)
Oh wow, what can I say about ONLY HIS? Every time I think of this story, two words come to mind… but I can't tell you what those two words are without revealing a big secret. I will tell you that the two words made my editor kind of nervous at the synopsis stage. When she finished reading the book, she called me, laughing so hard she was crying, and said I had pulled it off.
Fool's Gold 2011 series
To comment on Susan Mallery's blog please click here.