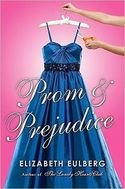 January 2011
On Sale: January 1, 2011
Featuring:
Lizzie Bennet; Charles Bingley; Will Darcy
288 pages
ISBN: 0545240778
EAN: 9780545240772
Hardcover
$17.99
Young Adult Contemporary
Buy at Amazon.com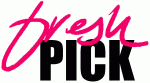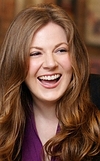 Welcome spring and thoughts of PROM!
Prom and Prejudice
by Elizabeth Eulberg
After winter break, the girls at the very prestigious Longbourn Academy become obsessed with the prom. Lizzie Bennet, who attends Longbourn on a scholarship, isn't interested in designer dresses and expensive shoes, but her best friend, Jane, might be — especially now that Charles Bingley is back from a semester in London.
Lizzie is happy about her friend's burgeoning romance but less than impressed by Charles's friend, Will Darcy, who's snobby and pretentious. Darcy doesn't seem to like Lizzie either, but she assumes it's because her family doesn't have money. Clearly, Will Darcy is a pompous jerk — so why does Lizzie find herself drawn to him anyway?
Will Lizzie's pride and Will's prejudice keep them apart? Or are they a prom couple in the making? Whatever the result, Elizabeth Eulberg, author of The Lonely Hearts Club, has concocted a very funny, completely stylish delight for any season — prom or otherwise.

This hysterical rendition of Pride and Prejudice would probably thrill Ms. Austen
Excerpt
It is a truth universally acknowledged, that a single girl of high standing at Longbourn Academy must be in want of a prom date.
While the same can probably be said of countless other schools across the country, prom at Longbourn isn't just a rite of passage – it's considered by many (at least those who matter) to be the social event for future members of high society. Longbourn girls don't go to the mall to get their dresses. No, they boast couture from designers whose names adorn their speed dial.
Just look at the glossy six-page spread dedicated to more than a century of prom history in Longbourn's recruitment brochure. Or the yearly coverage in The New York Times Sunday Style section… or Vanity Fair… or Vogue. Fashion reporters and photographers flock to Read More…