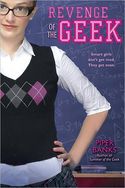 Miranda Bloom #4
November 2010
On Sale: November 2, 2010
Featuring:
Miranda; Nora Lee
256 pages
ISBN: 0451231341
EAN: 9780451231345
Trade Size
$9.99
Young Adult
Buy at Amazon.com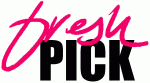 What's a nerd to do??
Revenge Of The Geek
by Piper Banks
Smart girls don't get mad. They get even.
Some people have to learn the hard way-don't mess with a geek. Miranda Bloom, girl genius, is totally psyched to start her junior year at Geek High. Too bad her boyfriend, lacrosse player Dex McConnell, is off to boarding school in Maine. Miranda thought she could count on her best friends, Finn and Charlie, to cheer her up, but they're caught up in their own issues…
So Miranda decides to make friends with the shy new student Nora Lee. At first things with Nora are great, but soon it seems like Nora thinks that anything Miranda can do, she can do better. Surviving at Geek High is hard enough without a copycat on your tail, and Miranda's not about to let some imitation artist take her place.

Sometimes imitation has nothing to do with flattery.